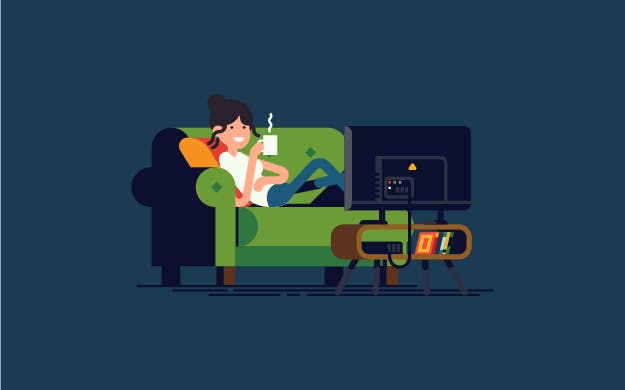 Seven financial lessons from Netflix's most popular shows
23rd Nov 2021

Faye
Money Saving Tips
Financial Guidance
Streaming services have rapidly become one of the most popular ways to watch our favourite series, with some shows like Squid Game reaching 142 million views, making it the most viewed show in Netflix history.
But these programmes are more than a weekend binge. When you strip back the drama and theatricals, their storylines often reflect what is going on in the world and the problems that the everyday person experiences, particularly financial success and ruin.
thinkmoney share some important financial lessons we can take from Netflix's most popular shows.
1. Squid Game: The importance of managing money and avoiding debt
Squid Game has caused quite a stir over the short time between its release and now, opening conversations about debt and highlighting the strain it can take when it becomes too much to handle – a relatable financial situation to many of us. While using credit within your means can be an incredibly useful way to make priority payments and help build your credit score, borrowing more money than you can afford to repay can lead to serious financial trouble and a toll on your mental health.
Paying off debts from several lenders could feel like a never-ending battle, and Squid Game shows the strain this can take on our lifestyles and health – albeit a situation we would never find ourselves in.
If you are struggling financially and have debts to repay, you can:
Sort your debts into priority and non-priority, focus on the priority debts first.
Seek support for any debt emergencies (such as court summons or bailiff actions). Organisations you can contact include Citizens Advice and National Debtline.
Create a budget to figure out how much you can afford to pay back each month, leaving you with enough money for food, clothing and any other necessities.
Always focus on repaying your debt before putting money away for savings or other financial commitments that aren't essential.
2. Bridgerton: Don't fall into a debt spiral
Before Squid Game, Bridgerton was Netflix's most watched show of all time, viewed by 82 million households. Ahead of the second series, however, there are financial lessons we can learn from the iconic characters.
Lord Featherington built up large amounts of debts that placed him and his family in a difficult situation, getting more and more into debt as he tried to solve the issue. If your finances are starting to get out of control, it's time to tackle the problem head on.
You need to look at or even create a budget so you can see where your money is going. Next, look at ways in which you can pay off your debts, paying more on credit cards etc. You then need to look at reducing your loans and overdrafts, if possible, and don't fall for schemes that could see you paying more in the long-term.
3. Selling Sunset: Don't bow down to peer pressure
Selling Sunset is a reality TV show representing realtors in LA selling multi-million-pound properties in some of the most exclusive locations. Series four is due to be released on 24th November 2021, which will likely have more financial lessons we can take from real-life and successful real estate agents.
In the show, Romain proposed to Mary with a ring that wasn't a diamond but moissanite, which received criticism from other cast members due to it being less expensive.
What we can learn from this storyline is that we should spend what is financially feasible rather than bowing to peer pressure. The 'three months' salary' suggestion to spend on an engagement ring was merely a marketing campaign by De Beers, an international jewellery company. Instead, save for these big moments in a way that is achievable and realistic that doesn't put yourself in a difficult financial situation.
You could set yourself a budget and stick to it, cutting out other big purchases that aren't essential.
4. Sex Education: Respect and understand financial differences
The highly anticipated Netflix series Sex Education doesn't only teach teenagers about being safe but has important themes of people having less money and opportunities than others. In Sex Education, Amy secretly pays for Maeve's expensive school trip to France, which ignites a huge argument between the two best friends.
This storyline highlights financial differences between friends and how people feel differently about accepting help. While there is nothing wrong with accepting help when it is eagerly offered by those who love us, it's important to acknowledge some cannot spend money as freely as others and not invade their boundaries.
Respect when somebody says no or cannot afford to do something you've invited them to – we all have different financial responsibilities and priorities.
And if you are unable to afford certain events and are struggling to say no to social events when asked, thinkmoney has asked Psychological Therapist, Kate Chartres, for tips on how to do so. Kate's top tips are to be honest. Tell them it's not personal. This is just a choice you are making at the minute.
5. The Crown: Focus on your health and seek support where necessary
The Crown is widely regarded as one of Netflix's most popular original series, following the reign of Queen Elizabeth II. Due to its popularity, we can also take some important life lessons from the show.
During her fourth pregnancy, the Queen took a break and retreated due to the strain on herself. In 2020, a survey revealed that a staggering 79% of employed British adults experience work-related stress.
If you do find you are suffering from stress in the workplace, try to talk to your employer. It's important that you put yourself first.
For those with financial worries, you can always get in touch with the below:
Citizens Advice: a network of charities that help with many different problems, including emergency debt.
Shelter: a charity that helps people with homelessness or poor housing conditions.
StepChange: a free debt advice service.
National Debtline: a charity that gives free advice on debt.
Gingerbread: a charity that helps single parents on a range of issues, including debt.
6. Tiger King: Establish financial boundaries with your family
Tiger King's first series, following the life of G.W Zoo owner, Joe Exotic, was an astounding success for Netflix. At the show's heart are a large number of lessons to take. Starting from the beginning, establishing financial boundaries with family members.
Joe Exotics mother, Shirley Schreibvogel, used her life savings to fund her son, Joe, even selling her home to ensure that he could continue running G.W Zoo, and fight legal battles.
If you do need to loan money to your family, ensure there is a plan in place to make sure you are repaid. Additionally, always think before you sign a contract as a guarantor for a family member, as you will be liable for any financial defaults, such as missing rent payments.
7. Schitt's Creek: Try to pull together an emergency/rainy day fund
Schitt's Creek has been described as 'one of the most beloved comedies on TV' and, in the series, the Rose family lose their money and livelihood. Unfortunately, they didn't have money set aside.
It's recommended that, within your wage, you have around three to four months' worth of your average monthly outgoings set aside in an emergency fund. This should help cover you should anything happen such as a big expense or job loss. Of course, that is not possible for everyone.
The most important thing is to do what you can and set aside as much as realistically possible to ensure you can also afford necessities. If you set aside 10% of your monthly outgoings, it will take two and a half years to save three months' worth. But, setting aside 15% will mean that you can save in just a year and eight months. So, look at what is achievable within your budget.
< Back to articles