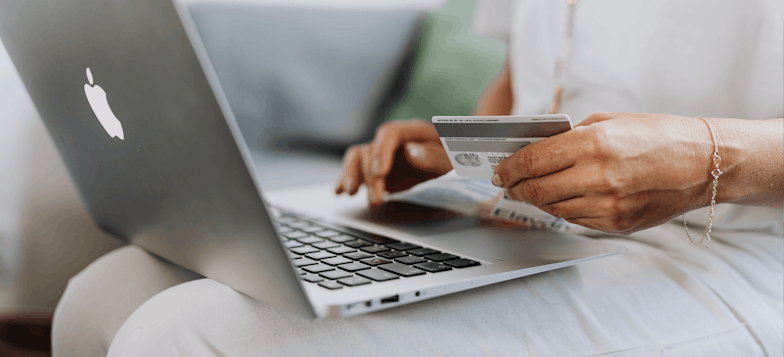 Black Friday scams to watch out for in 2021
15th Nov 2021

Kirsty
Financial Guidance
It's a widely-known fact that online scammers advance each year, growing braver and more convincing than before. The scams that were successful only five years ago would probably raise more alarm bells today. That said, though you might think you'd smell a scam a mile off, many people are still caught off guard by criminals who can perfectly imitate a trusted bank, shopping platform or even the Government.
This guide will help shed some light on the common scams of 2021, with top tips on how to spot them when they are most active: Black Friday.
Common Black Friday scams
Online crime is a year-round problem that needs constant attention, but scammers are particularly active around Black Friday for one simple reason: there are more potential targets.
Scammers are smart and they know when to strike. During a very busy time like Black Friday, they will cast their net over a sea of online shoppers in the hope of catching even one victim. Even if 99% of people don't fall for it, the 1% that do could mean big money for them, depending on the type of scam they have created. Let's take a look at some of the most common ones around.
Fake confirmation emails
Fraudsters don't hold back when it comes to imitating huge companies to trick people. The likes of PayPal and Amazon are among some of the names battling with identity fraud every day. Around Black Friday, pay extra attention to any email that comes from big names like these, especially if it looks like a confirmation email for a purchase you don't remember making. The best way to scan these emails are:
Look at the email address
What does the email address say after the @ sign? This should be what is called their 'domain', which is the name they pay to register online. PayPal will be @paypal.com, for example. If you see [email protected] or something similar, you can be sure it's not the real company.
Observe their English
If you see spelling mistakes and basic grammatical errors, this is very unlikely to be the real company. Although we're all human and mistakes can happen, even from big firms, it's highly unlikely you will see multiple spelling mistakes from genuine professional emails.
Social media scams
We all love a Black Friday bargain, and where better to find the cheapest deals than on Facebook Marketplace. It may come as no surprise that it's crawling with scammers trying to sell you fake goods from fake profiles. Facebook has got better at clamping down on these in recent years, but there are still thousands of payments made every day by people who never receive their parcel.
Unfortunately, this platform is not a registered shopping site and you're not protected in the same way. The best thing you can do is check the seller's rating and profile, and pay using PayPal's buying and selling feature, so you can claim back your money in the worst case scenario.
Pay particular attention to:
seller profiles which look new
sellers who ask you to pay with 'PayPal Friends & Family'
pushy messages asking you to send money quickly.
On top of all this, it pays to just follow your instinct. If you are not 100% sure, don't part with your money. A genuine seller would understand your reluctance.
Fake invoices
Very similar to the example with bogus confirmation emails, but this is also a big one to look out for. If you receive an invoice for a recent purchase, whether you made this purchase or not, you should check it thoroughly. You may get a message saying that a recent payment hasn't gone through and to "try again" by putting in your card details. Or you will get an email address to send some money via PayPal. If you have made a purchase and the money has left your bank account, then it could be that someone is trying to scam you.
Membership renewal
Another case of high-level imitation of trusted names and companies. If you have a paid subscription anywhere at all, whether it's a gym, shopping site or even something that seems minor like a book club, you should always remain vigilant. No matter the size of your subscription, it's your card details they are hoping for, so it's worth paying close attention to any attempt to get them.
You may get an email saying it's time to renew your membership or that your sign up wasn't completed properly. Scammers also won't be shy about claiming 'special Black Friday deals for VIP members only'. Check the email address it has come from and watch out for any of the signs mentioned above. If you're still not sure, contact the company directly and let them know what you received. They will tell you straight away if they sent it or not.
Staying safe online this Black Friday
We've covered some important tips for staying safe this Black Friday, but here are a few signs to watch out for when you are shopping online:
Look for the padlock symbol
There should be a padlock in the address bar next to the website address which means the site is secure.
Website address
Look at the very start of the URL, does it have https:// ? The s at the end stands for secure, and companies pay more to have it. http:// is not recommended for putting in your card details.
Valid certificate
Click the padlock symbol or if you can't see one, look just to the left of the address bar, and you should see information on the site certificate.
Watch your spending with the thinkmoney app
One way you can keep a close eye on your money is with the super simple thinkmoney app. You can check in seconds whether or not money has left your account, making it even easier to spot the 'your money didn't go through' style scams.
< Back to articles