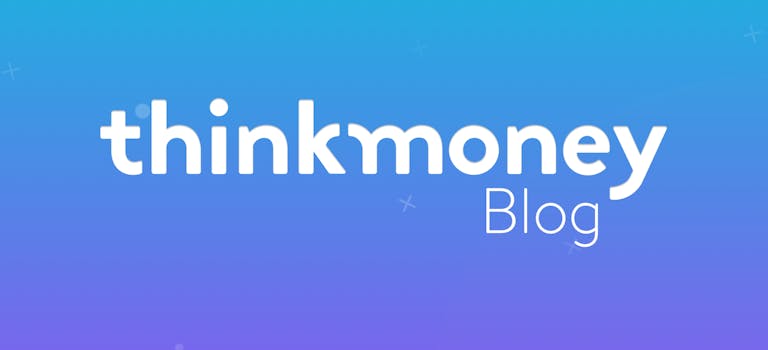 Burnout Brits: The UK regions most at risk of being overworked
17th Sep 2019

thinkmoney
Money Saving Tips
Feel like you spend more time at work than at home? You're not the only one.
Britain is a nation of hard workers. According to a recent study by the Trades Union Congress (TUC), Brits are working two and a half weeks more, per year, than any other country in Europe.
While the average working week has decreased by 18 minutes over the last decade, at this rate it will take 63 years for British working patterns to match those elsewhere in Europe.
We've analysed working patterns around the country to answer the question: Which UK regions could be suffering from burnout?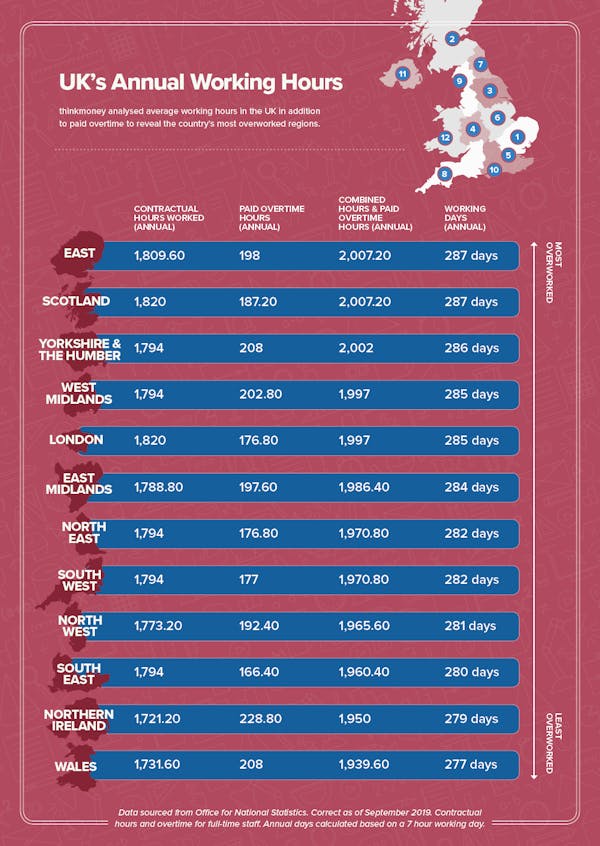 Employees in Scotland and the East work an extra 10 days than those in Wales
Scotland and the East of England top the leaderboard for the longest hours worked in a year. Employees in these regions reported spending 38.6 hours at work per week, or 2007.2 hours a year.
Welsh employees might work more paid overtime than those from Scotland and the East of England, but they still work 67.6 hours a year less than their Scottish counterparts. That's the equivalent of 10 working days! Those in Wales work 277 days a year on average, and those in Scotland or the East of England work 287.
Northern Irish employees work an extra month overtime per year
While Northern Ireland has the shortest contractual hours, they work the most paid overtime. Northern Irish employees total 228.8 paid overtime hours (or 33 days) per year. In comparison to London, Northern Irish employees work an additional 7 days overtime. London, surprisingly, works some of the lowest paid overtime hours per year.
London workers put in the second least paid overtime hours in the country
London has one of the longest working weeks when adding together paid overtime and contractual hours (38.4 hours), but workers in the capital are only reported to work 176.8 hours paid overtime, along with the North East and South West. However, these figures only reflect paid overtime and it's possible that the unreported, unpaid figures could be much higher.
Employees in South East work the lowest overtime hours
Workers in the South East put in the least paid overtime at only 166.4 hours (24 days). They work 62.4 hours less than NI employees, or the equivalent of almost two working weeks.
The TUC estimates five million workers in the UK have put in more than £32 billion unpaid additional hours per year. So, overtime figures could be even higher than reported. Employees in Wales gave an extra £819 million of free labour in 2017.
Men in Northern Ireland are putting in the most paid overtime in Britain
While Northern Irish workers may have one of the shortest working weeks in the country, the same cannot be said for paid overtime. Male employees in Northern Ireland put in 5.3 extra hours per week - equating to 275.6 hours in total, or 72.8 hours more, per year, than male workers in London.
Similarly, female workers in Northern Ireland also work more paid overtime than those in London at 156 hours and 145.6 hours per year respectively. Or, the equivalent of one and a half working days.
Government departments in Northern Ireland are spending up to £40,000 a day on overtime, with civil servants working an extra 804,000 hours (114,000 days) in the last year. These stats suggest that working overtime is becoming the norm and not the exception.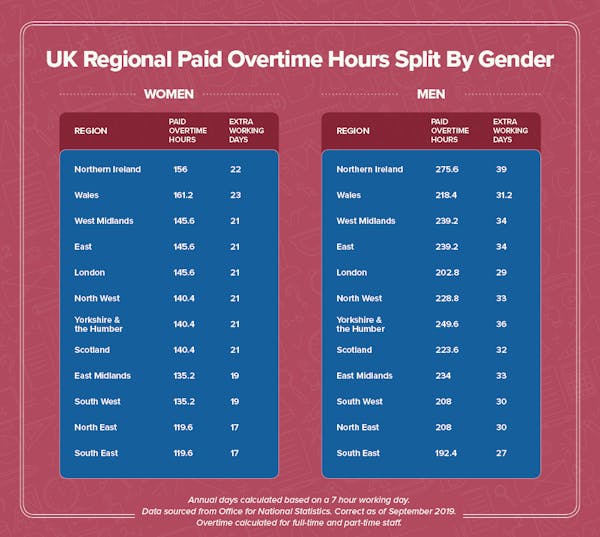 Work-related stress accounts for half of all working days lost
In the last working year, work-related stress and anxiety accounted for an average of 25.8 working days lost in Britain. This suggests that working longer hours is putting the health of workers at risk.
Kiran Singh, an award-winning Life, Mindfulness & Life Purpose Coach, reiterates how important it is to put your health first: "The pressure of having to keep everything together can often feel just too much. If this feels like you, it's time to reassess and get your life into perspective."
Singh said there are questions you should be asking yourself regularly to ensure you are prioritising your health. For instance, 'do you take work on holiday with you?', 'have you missed family events because of work?' and 'are you able to switch off at the weekend?' If you are struggling with these questions, Kiran suggests you "put your health and well-being first. If you burn out, life will come to a standstill."
Britain's 'long hours' culture is affecting productivity
While UK workers may put in the longest hours, German and Danish workers are said to be more productive. For instance, employees in Denmark spend on average four hours a week less at work than Brits but are said to be 23.5% more productive during working hours.
In Sweden, many companies - including Toyota and Svartedalens elderly care home in Gothenburg - have been experimenting with six-hour working days. The care home, in particular, found that shorter working days led to a 10% drop in sick leave, with the carers also said to be more alert and happier.
How do long hours affect your health?
Are you one of the many that are working more than the recommended hours? With overtime hours increasing, burnout is a real concern.
If you believe you are at risk of burnout, we suggest speaking to someone who can help. Mind is one charity that can provide support and advice if you're struggling due to working long hours.
*Data sourced from Office for National Statistics.
< Back to articles