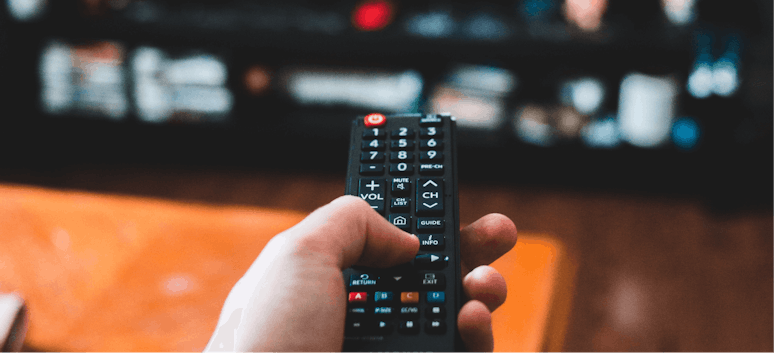 Revealed - How much does your favourite TV show spend on you?
11th Mar 2021

Stephen
Money Saving Tips
General Finance
Britain's recent lockdowns have led to a surge in streaming. A report revealed that Britons at home are clocking up almost 180 hours each month watching TV. That's 40 hours more than the average working month.
While we might be watching more TV than ever, thinkmoney has crunched the numbers to reveal just how much the most expensive TV series are spending on you. The viewing figures for each show have been divided by the budget per episode to reveal which one spends the most on each individual viewer.
The Pacific spent the most on every individual viewer, at £5.70 per episode
thinkmoney can reveal that The Pacific spends the most in order to attract viewers. With a staggering budget of £14.1 million ($20 million) per episode and viewers of 2.5 million per episode, it costs them £5.70 for each viewer.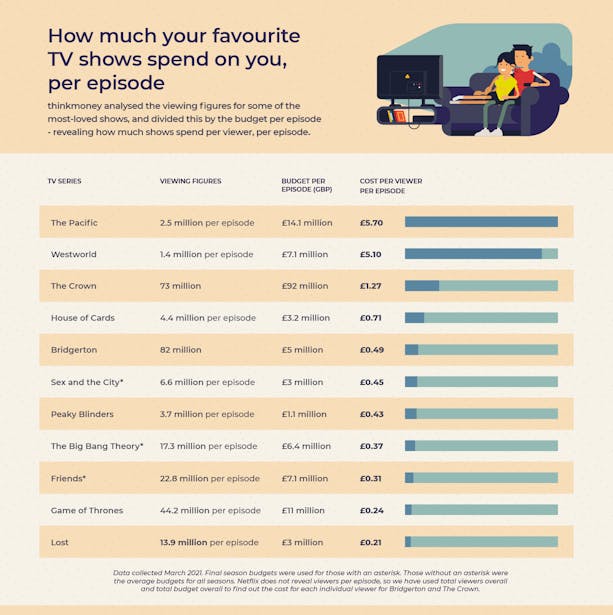 Westworld also spends the big bucks on their viewers, with it costing around £5.10 to bring in each viewer with a budget of £7.1 million ($10 million) per episode and an average of 1.04 million viewers.
The Crown spends £1.27 on each of its viewers
The Crown is another popular show with a whopping budget of £92 million ($130 million). Pair that with the total number of viewers, which is 73 million, and they spend £1.27 on each of their viewers.
Lost spent the least on attracting their viewers at just £0.21 per episode
thinkmoney can reveal that Lost actually spends the least on their viewers of all of the shows analysed. The show had an average of 13.9 million viewers per episode and a relatively low budget of just £2.8 million ($4 million) per episode, with each viewer costing the series just £0.21.
Game of Thrones boasts one of the biggest episode budgets but spent just £0.24 on each viewer
Game of Thrones is one of the most expensive TV series ever created, with a budget of £11 million ($15 million) for every episode. But the show also has the highest viewing figures of all the series analysed, with an average of 44.2 million per episode. For this reason, each viewer costs the show just £0.24 per episode.
Friends is another show that didn't spend much on their viewers, with each one costing the show only £0.31 as, despite its budget of £7.1 million ($10 million) per episode for the final season, it also had a staggering 22.8 million viewers for each episode. Sex and The City (TV series) actually spent more on their viewers than Friends at £0.45 per viewer.
Bridgerton spent £0.49 on each viewer per episode
Bridgerton has been crowned Netflix's most popular series to date, with a record 82 million households around the world watching the 2020 show. With such popularity, you'll be surprised to learn that it has spent little on attracting its viewers.
With a budget of £5 million ($7 million) per episode - totalling £40 million across eight episodes - it costs just £0.49 for each viewer.
The average TV series budget is £6 million per episode
Of the series analysed, thinkmoney can reveal that the average budget per episode is a staggering £6 million ($9.4 million).
HBO accounts for 40% of the most expensive series and the two costliest shows, The Pacific and Westworld. Netflix, on the other hand, only accounts for 27% of the most expensive series, despite a budget of £12 billion ($17 billion) available for its productions in 2020. This is almost £11 billion ($15 billion) more than HBO, which spent more on attracting each viewer.
But just how has Netflix's budget increased over the years?
Netflix's production budget has increased by almost 700% in 7 years
In 2020, Netflix spent £12 billion ($17 billion) on its video content budget, with an expected spend of £13.7 billion ($19.3 billion) in 2021 - an increase of 10% in just one year. But since 2013, that budget has skyrocketed by a staggering 606%.
Netflix started 2013 with a budget of £1.7 billion ($2.4 billion), which more than doubled by 2015 to £3.5 billion ($4.9 billion) and has steadily increased each year. This highlights just how much streaming services have changed in such a short space of time.
How to save up to £229 with your entertainment packages
While signing up to every streaming service might set you back a fair few quid, that doesn't mean you can't save money while watching the latest shows. Here, thinkmoney can reveal how you can save up to £229 with your entertainment packages.
Cancel your TV licence and save £157.50 per year
While this tip isn't for those who watch their TV or catch up on BBC iPlayer, there could be some people paying for the licence fee when they don't need to. If you don't:
Watch or record live TV
Watch BBC iPlayer (live or on-demand)
You could save yourself a tidy sum of £157.50 at the end of the year.
Combine your Netflix account with another member to save £36 across the year
Netflix offers three price plans, with Standard enabling you to watch video content on up to two screens for £9.99. But if you were to combine your account with a friend or family member for the Premium account (£13.99) - which allows you to watch up to four screens - you could end up paying just £6.99 per person - £3 cheaper than the standard account.
If you were to do this with an additional person, you could end up paying a third of the original price (£4.66). As Netflix also lets you create separate accounts, you can even make sure your watch lists don't get jumbled. It's important to note that these plans are designed for those living within the same household.
Opt for Spotify Duo and save up to £36 each year
If you and your partner, or the person you live with, both have individual Spotify Premium accounts at £9.99, you could save over £3 per month by opting for the Duo package. This package is just £12.99 (or £6.49 per month) and doesn't involve sharing passwords, meaning you can keep your music and playlists separate.
If you don't watch Sky Sports much, consider NOW TV
If you watch the occasional sports match but pay for the Sky Sports package at £25 per month, you could be spending significantly more than you need. Instead, a NOW TV week pass starts at £14.98 and allows you to watch 11 channels. So, you can catch up on your sports without paying more than you need. Plus, you don't need to be tied into a contract.
Check what you are watching and axe what you don't
Are you paying for too many subscriptions? thinkmoney recently discovered that 35% of British households have spent an additional £100 on subscriptions during lockdown, but do we really need it all? If you are watching a subscription come out each month but you aren't using it, it might be time to cancel. The likes of Netflix and Disney+ (which has just recently added Star) allow you to cancel and re-join without any fees, so you could stop those subscriptions at any time.
If you are a student, check for the best deal
There are packages available for students on both TV and broadband, meaning you could save hundreds each year. The best thing you can do is shop around for the best deal and use comparison sites to ensure you are not paying more than you need for your entertainment.
If you are still looking for more budgeting tips, read up on how to enjoy seven and a half months of free TV subscriptions.
*Methodology: thinkmoney studied 15 of the most expensive TV series ever, analysing their budget per episode or overall and the total number of viewers per episode to reveal the average cost per viewer. *
< Back to articles