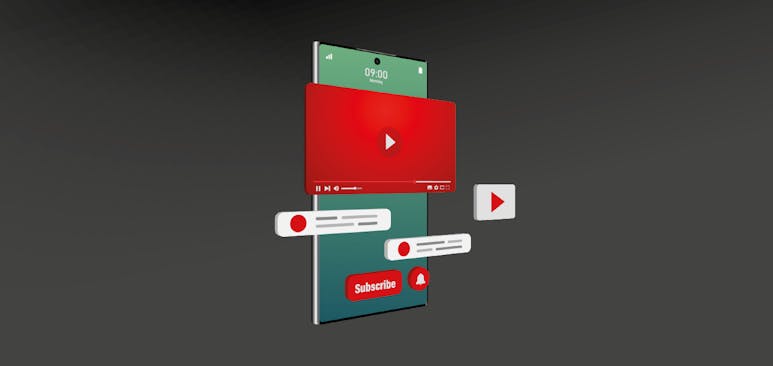 How much have Brits relied on entertainment subscriptions as escapism in lockdown?
9th Dec 2020

Faye
COVID-19
Bills & Payments
The COVID-19 pandemic has forced people around the world to change the way they live, work, and even enjoy entertainment. At the height of lockdown and local restrictions, Brits were spending six hours and 25 minutes of the day watching TV and other online services. This totalled to almost 45 hours a week - an increase of a third on the previous year!
In response, thinkmoney has analysed how much we have come to rely on entertainment during lockdown by delving into how much extra we have spent on subscriptions and the people relying on them the most. Through this, thinkmoney can reveal the true cost of escapism in 2020.
Over half of Brits have spent more on their subscriptions per month during lockdown
As we have spent more time in our home and away from our loved ones in lockdown, our research shows that the use of streaming services has skyrocketed. More than half (56%) of people surveyed said they have spent extra on their subscriptions during lockdown.
Almost a third (32%) also said they have come to rely on their entertainment subscriptions as a form of escapism during the restrictions.
Over a third (35%) of Brits have spent an extra £100 on subscriptions during lockdown
According to the survey, 35% have spent an extra £20 per month on their entertainment subscriptions during lockdown. Therefore, from March to November, this works out at around £100 on top of their usual bill.
If we were to calculate 35% of every Brit that had a subscription in the UK (18.2 million), that would mean an additional £630 million has been spent on these services during lockdown and local restrictions alone!
1 in 20 (5%) have spent more than £400 on subscriptions while in lockdown
Digging deeper into the data, we can see that 1 in 20 (5%) have spent more than £80 on their online subscriptions alone during lockdown. This is a minimum of £400 if we were to count that over the UK's lockdown and local restriction months. Again, this shows how they have become a key pastime when our outdoor options have been limited.
thinkmoney also discovered that parents are coming to rely on subscriptions more than ever to keep their children entertained. The average age of a first-time mother is around 30, and 33 for the father, and 61% of Brits aged between 35-44 spent the most on online subscriptions. 1 in 10 spent an extra £40 per month - or £200 across lockdown.
This highlights how school closures and entertaining young children at home could have cost parents a lot more than expected.
But what are we actually subscribing to?
1 in 3 have subscribed to film and TV streaming services over lockdown as a form of escapism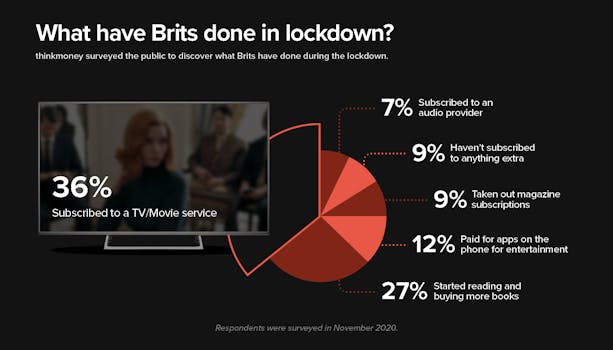 Of the Brits surveyed, 36% stated they had subscribed to a TV or movie streaming service such as Netflix as a result of the lockdown. Netflix has seen subscriber numbers surge, with a record 16 million new users in the first three months of 2020.
Surprisingly, thinkmoney can reveal that more than a quarter (27%) have started reading and buying more books, compared to just 7% who stated they had subscribed to an audio provider. This could suggest that, as some have more time available, they are turning to reading as a form of escapism.
Women are relying on their subscriptions more than men
Furthermore, our research found that more women than men are spending extra time watching streaming services. 39% of women use all of their subscriptions more than ever, compared to only 29% of men. This could be for several reasons.
For instance, one of our previous studies on overworked regions found that women account for more part-time jobs than men across Britain. Sadly, with UK job losses rising to a record rate in the three months leading up to August and, with part-time employees being some of the worst-hit, it could be that women are suffering more and, therefore, turning to their subscriptions.
A recent study also found that women were less likely to be hired during peak lockdown. Similarly, women feel less confident about their future work projects due to the pandemic, and they are bearing the brunt of childcare responsibilities in the current climate.
We can also reveal that 36% of women surveyed have subscribed to TV streaming sites, compared to 34% of men. Likewise, 32% of women said they are reading and buying more books, while just 23% of men said the same. This, again, could highlight how the pandemic has seen women turning to entertainment more than men.
London and the North East have seen the biggest increase in subscription spends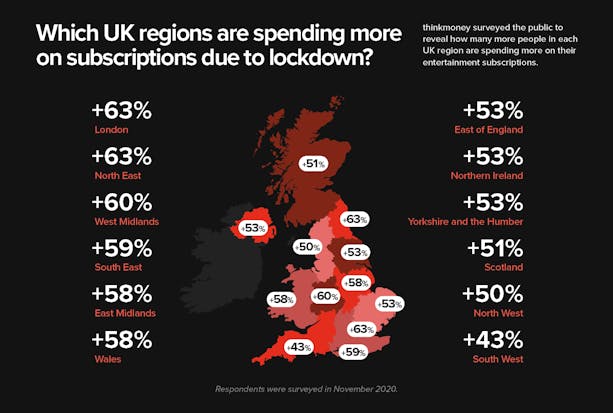 Nearly two thirds (63%) of respondents from London and the North East have spent more on online subscriptions than any other region in the UK. This is compared to the South West, for instance, where only 43% said they have paid more for their streaming services over the pandemic.
London is the UK's biggest employer of the hospitality industry and, sadly, this sector has suffered in the pandemic with furlough and closures. It is estimated that there will be 500,000 job losses in the industry by the end of the year. This could explain why more residents are at home in the capital and, therefore, using entertainment subscriptions.
Similarly, the North East has suffered large job losses, with Middlesbrough one of the worst-hit towns in the UK, which could be behind the significant rise in subscriptions in the region.
Jonny Sabinsky, Head of Communications at thinkmoney, said: "It's quite clear that we are relying heavily on entertainment during lockdown, and the numbers prove it. It highlights just how important the industry is for getting us through tough times, but it is also important to know how much you are spending. If possible, only sign up to subscriptions you will use and write out a budget to make sure you aren't spending more than you have available."
Here's how you can enjoy free subscriptions for seven-and-a- half months
If you are budgeting your money in the current climate, it is possible to enjoy some of these subscriptions and, subsequently, trial before you buy.
Month one - three: Trial Amazon Music for free
If you are working from home or simply want to relax after a busy day, music can help. Luckily, you can get a taste of Amazon Music, absolutely free for three months. This is only available for new customers, and your subscription will start after those three months are over. You will also have to include card details for your trial to start, but you can cancel at any time.
Month four: Watch blockbuster films and TV shows with Amazon Prime's 30-day trial
Similarly, Amazon Prime offers a 30-day trial for new customers to sample their catalogue of films and TV shows. Your trial will start on the day you sign up and will last for 30 days, where you will then be charged £7.99 per month.
Month five: Watch your favourite American shows on hayu for 30 days free
Owned by American network NBCUniversal, hayu is your go-to for all things reality and true crime. Hosting over 250 shows, you can sign up for the service through Amazon and start your 30-day free trial. You will need to be a new customer to get the deal, and you will be charged £4.99 per month once the trial ends.
Month six: Listen to a free audiobook with your 30-day trial
Our survey revealed that 20% of Brits are more interested in books than music services. If you are one of them, Audible is offering a 30-day trial for new customers. On top of that, you'll also get a free audiobook with your trial. You can cancel at any time but, if you enjoy it, the subscription will cost £7.99 per month.
Month seven: Get Spotify Premium free for one month
Spotify Premium allows you to listen to music without any adverts, and you can also hit next on as many songs as you want. Luckily, for those new to Premium, you can get it free for one month. After that period, the service will cost £9.99 monthly, but you can cancel before you start paying.
Month seven: Enjoy a seven-day trial with Now TV
Now TV is another online streaming service that provides access to over 300 boxsets, Hollywood films, and more. If you are really interested, you could get through quite a few of your favourite shows within those seven days. Once the trial is over, the subscription costs £9.99 per month (for an entertainment pass), but you can cancel anytime.
Month seven: Get the best of British with the BritBox seven-day trial
BritBox has more British box sets available than any other streaming service, almost 300, in fact. But you can try the subscription for seven days before going ahead and confirming you want to pay £5.99 per month.
If you are interested in more tips on budgeting your money, check out simple steps to saving up to £1,500!
< Back to articles