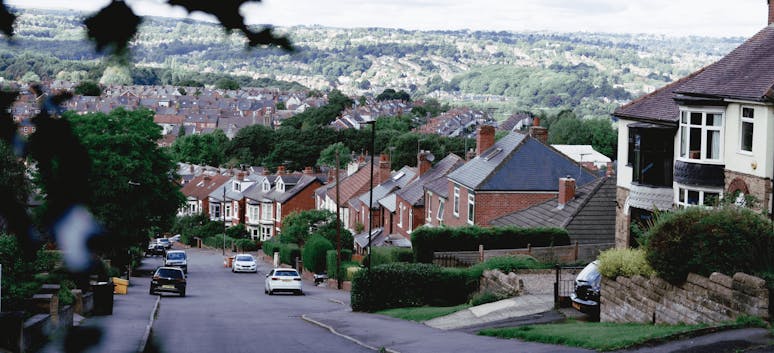 A place in the suburbs: Here's how much you could save
4th Jan 2021

Faye
Money Saving Tips
COVID-19 has led to a huge increase in remote working. In 2020, 50 of the UK's biggest employers stated that they had no plans to return all their staff to the office in the near future.
Additionally, a recent YouGov survey revealed that a third (39%) of Brits would opt to work from home most days after the pandemic. A further 18% would choose to work from home every day, which could mean fewer people would need to live close to their office. So, are we likely to see a rise in Britons moving away from city centres?
thinkmoney has analysed the average rent and house price costs across 23 most populated cities and compared them to the costs of living in nearby suburbs, villages, and towns to reveal how much you could save by moving away from the city.
Searches for 'moving to the country' have increased by 29%
Over the course of eight months in 2020, searches for 'moving to the country' increased by 29%, highlighting how the lure of the city centre could be disappearing as we continue to work from home.
A recent report also revealed that 1 in 6 UK workers are ready for a longer commute and a staggering 71% of younger buyers crave outdoor/rural areas when looking for a home.
But just how much can you save from moving back to the suburbs?
Brits can save £225 each month on rent by moving just 4.6 miles from the city centre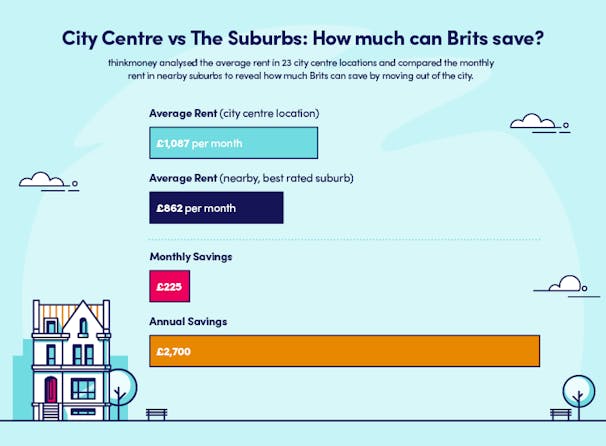 thinkmoney analysed the average monthly rent across 23 of the UK's most populated cities and towns, discovering that Brits can save up to £225 per month if they were to move just 4.6 miles from the city centre.
The average rent across the 23 central locations was £1,087 per month - that's over half (53% ) of the estimated average monthly income in Britain, which is £2,023. However, if we were to look at rent in 23 of the best-rated nearby suburbs, renters can expect to pay an average of £862 each month; a saving of £225.
If we were to total that over the course of a year, that is a staggering £2,700. This could mean that those renting their home could afford to save more each month, which could help with any unexpected emergencies. thinkmoney recently discovered that 46% of Brits didn't have any savings before the pandemic, so any funds that can be saved are all the more important.
Renters could save £10,800 over the course of the average tenancy if they were to move out of the city centre
In the UK, the standard private sector tenancy length is four years. If city centre tenants moved an average of 4.6 miles to a nearby suburb or village, they could save £10,800.
The average cost of rent in the 23 city centre locations is a massive £52,176 over four years, which is more than a fifth (22% ) of the cost of the standard new home in Britain. This is compared to £41,376 in rent in the nearest, best-rated suburb.
Brits could save a 5% deposit for a home by moving out of the city centre
The average 5% deposit in the UK is £11,600 for a home that costs £232,000. This means that renters could save 93% of that amount in just four years if they were to move outside of the city centre. However, as 95% mortgages are becoming harder to come by, it's a good idea to start saving as much as possible, so it pays to look around.
But where are the best savings to be made in the country?
Moving from the centre of London saves up to £3,217 per month in rent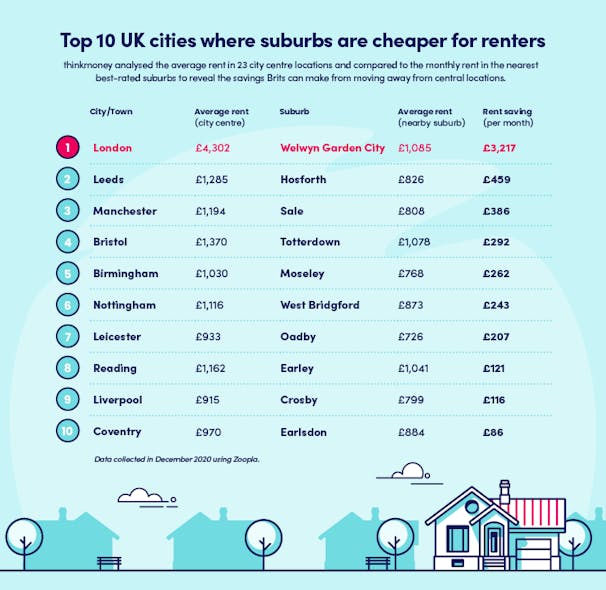 London's city centre is considered to be the W1 postcode district due to the attractions and landmarks. But did you know that you could pay up to £4,302 each month in rent for a two-bedroom property in the area?
Welwyn Garden City, just 24 miles or 30 minutes on the train, is just north of London and thought to be one of the best areas to live near the capital. The average rent in Welwyn Garden City is £1,085 - a saving of £3,217 or £38,604 across the year. Additionally, an annual train ticket to travel between the two destinations would cost around £4,428, which would still mean a saving of £34,176 over the year.
Relocating five miles out of Leeds city centre could save tenants £459 each month
Likewise, renters in Leeds could see huge savings by looking at properties just five miles from the centre.
If you were looking for a property with an LS1 postcode (centre), monthly rent would cost around £1,285. However, Horsforth - another best-rated location to live near the city - is just 25 minutes away, where monthly rent drops to £826. That's a saving of £459 each month or £5,508 over the course of a year's tenancy.
Of the locations analysed, renters could make significant monthly savings in 19 areas. In Manchester, relocating just eight miles meant monthly rental savings of £386 or £4,632 for the year.
A move of just one mile in Bristol could also see private sector tenants save £292 each month. That's the equivalent of £3,504 over the course of a year.
Yet, homeowners in these areas may be paying more than you might think.
Homeowners are paying 9% more to live just outside of the city centre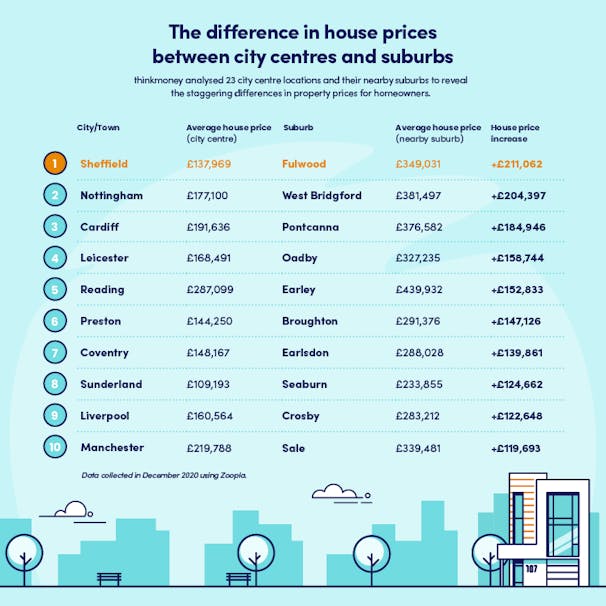 While renters can save up to £2,700 each year by moving away from central locations, the same cannot be said for house prices.
thinkmoney can reveal that the typical asking price for a property in the city centre locations analysed was £262,938, with that cost rising to £290,295 in the nearest suburbs, towns, or villages.
However, this could be for a number of reasons. One of which could be that houses in the locations outside of the city tend to be larger than inner-city terraces, and there has been rising interest in properties with more space. Due to the pandemic, house prices in suburbs have also increased significantly. In Walkden, a suburb near Central Manchester, 60% of homes were selling for above the asking price due to the demand in rural areas.
Similarly, as soon as the stamp duty holiday was announced by the Chancellor, registrations for suburban areas increased by 31%. Recent data also revealed that interest for homes spiked in commuter belts around major cities, with the likes of London lagging behind.
Zoe Kenworthy, Director of Sales & Lettings at Wardsmith & Co said: "Since May, we have seen a surge in buyers from London wanting green space. Be it a balcony, garden, or roof terrace just somewhere to sit should we end up being in isolation. Next on the list has been study space and, for couples, this has increased, to two spaces as they have found they need separate areas from the kitchen/living space especially for conference calls. This has meant the top 10 wish list for buying a home has changed.
"We foresee 2021 continuing to have good interest, albeit with house prices remaining static. The stamp duty holiday end has provided a boost to the market but the biggest driver this year has been buyers and vendors reassessing their home requirements."
If you are considering moving to a property outside of the city centre and struggling to save, there are ways in which you can begin to budget for your new home.
Work out how much you will need for a deposit
If you are looking to buy a property, it's important to understand how much you will need for a deposit. While this can vary, you will, typically, need a 15% deposit if you are a first-time buyer. Equally, if you are looking to rent your next home, you will need a security deposit, which is usually the equivalent of a month's rent.
Budget for any expenses
When it comes to buying a property, you will need to budget for additional expenses. These include conveyancing, surveys, mortgage arrangement and broker fees. Similarly, if you are moving to an unfurnished home, you will need to make sure you set aside savings for buying the essentials.
Plan your monthly payments
It's important that you know exactly what needs to be paid each month, so we suggest creating a monthly budget to keep an eye on outgoing payments. You may need to include savings targets to ensure you meet all repayments, but planning will make sure that all bills are paid on time.
Jonny Sabinsky, Head of Communications at thinkmoney, said: "It's staggering to see the savings on rented properties by moving just a few miles away. Hopefully, our research can help those that are looking to make the move away from the city centre and help with anyone struggling to save for their new home."
If you are looking for more tips on saving money, check out our advice on the budget your money hub.
< Back to articles