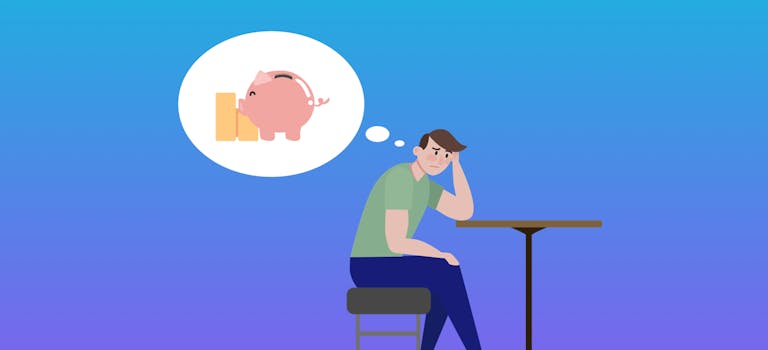 How to manage debt during the COVID-19 pandemic
27th Oct 2020

Faye
COVID-19
Financial Guidance
Finding yourself in debt can be a stressful and worrying time, especially if it's due to circumstances out of your control. If you're struggling with your money because of COVID-19, or if you're just worried about it due to the uncertainty of the economy, we've put together some tips to help you manage your money.
Why COVID-19 has caused debt
Many people have struggled financially over the last few months because of the coronavirus. Despite the government schemes to help people keep their jobs and companies to remain afloat, sometimes, it wasn't enough.
Unfortunately, many people have lost their job and are receiving a decreased amount of their usual wage, which isn't enough to cover their bills. This in turn has caused people to dip into their savings or take out loans to get them by. From a recent survey, we also discovered that many people didn't have any savings before the pandemic which left them in a difficult financial position.
How can I better manage my money?
For some, managing money doesn't come easy, but working out a monthly budget is the best way to stay in control of your finances. That's why we've put together a few tips to help you get started.
Make a budget – Work out how much of your income is needed for your bills, including how much you need to pay each month towards your debt, so you can see how much is left for you to spend.
Set up Direct Debits – Making sure all your monthly bills and commitments are set up with a Direct Debit or standing order will ensure they are paid on time so you don't incur any more charges.
Cut back on spends – Are there any subscriptions that you don't use that you can cancel or any unnecessary spending, such as getting your coffee from your local coffee shop each morning? Cutting these out will leave you with extra money to go towards paying off your debt.
Shopping list – When doing the weekly shop, it's always worth writing a list to work out what you need before you head to the shop. This will prevent any unnecessary spending on items you don't need.
For more tips on how to manage your finances, you can check out our range of guides to help you budget your money.
What if you can't pay your bills?
Since the payment break on rent and mortgages has ended which the government set up to help those whose income was affected due to COVID-19, and the ban on evictions has also ended, you may be concerned about how else you can seek help to pay your bills. The good news is if you're struggling because you've either got a reduced income, lost your job, or have to self-isolate or shield which is affecting your pay, then there may be some benefits that you're entitled to.
Universal Credit is a monthly payment from the government and is designed to help with living costs for people who are unemployed or on a low income. The amount you can receive is worked out based on how much money you already have rather than being a fixed amount, therefore, it may change each month. But instead of being considered as a debt, it's seen as a source of income, so it won't affect your credit score. Find out how much universal credit you could receive via entitleto.co.uk.
How can I improve credit card debt?
There's no surprise that more people will have turned to their credit cards to help them get through the past few months. The trouble is this money still needs to be paid back and can incur interest. So, if you've ended up with credit card debt, here are a couple of things you can do to improve your situation.
Request a payment deferral – Throughout the pandemic, customers who have struggled with their finances have been able to request a three-month payment deferral without it affecting their credit score.
Call your credit card company to arrange a repayment plan – After the 31st October, you can no longer request a three-month payment deferral. However, the FCA rules state that firms are expected to offer a tailored package of support to each customer, taking into account the ongoing crisis. With this, they need to be flexible with repayments and give customers time.
Pay the minimum you owe each month – If you're struggling to get a repayment plan that you're happy with, it's important to pay at least the minimum expected to avoid being charged interest. Although it's not ideal for your credit score to just pay the minimum, it will prevent any further debt.
Set up a budget – If you set up a budget as discussed above, it will help you manage your money better to be able to pay off your debts.
Where can I get help for debt?
If you're in debt and you don't know what to do, do not suffer in silence. It's important to remember that you're not alone in this and many people are in a similar situation due to the current pandemic.
If there's no one close to home who you feel like you can talk to, there are many organisations out there who can offer support. You can check out our supporting our customers' page for advice and details on who to contact for help or check out our guide on how to start paying off your debt.
< Back to articles