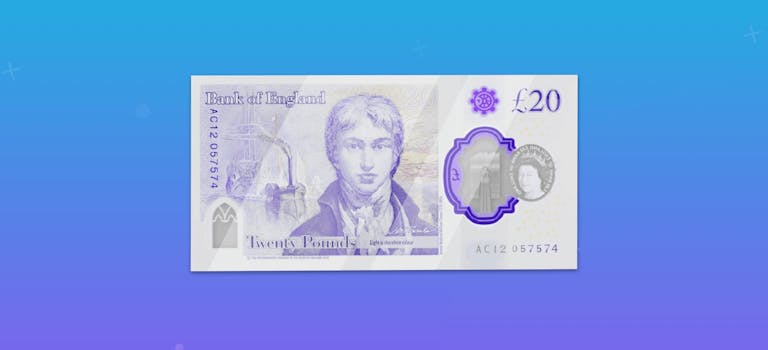 The New £20 Banknote
10th Mar 2020

Faye
General Finance
You may have heard that there is a new polymer £20 note to replace the paper note! Just like the £10 note released in 2017 and the £5 note released in 2016, this new addition will be more secure and more durable… and washing machine proof. It has even been described by Sarah John, Chief Cashier of the Bank of England as "the most secure Bank of England banknote yet."
We have put together all the information you might want to know about the new banknote. Take a look below and discover the £20 note launching for 2020.
When is the new £20 note coming?
Now! The first wave of notes were circulated on 20th February 2020 and will continue to do so gradually.
What do I do with my old £20 notes?
Nothing for now, unless you want to. There will be 6 months' notice to let you know when you will need to stop using your old £20 notes. In that time, you will be able to spend them in shops or deposit them at your local bank or post office. Then you can transfer your money into your thinkmoney account.
After the 6 months' notice date, shops will stop accepting them, but banks will still allow you to deposit them for a short time. However, you should do this sooner rather than later to limit the chance that your money will be refused and then become valueless.
What security features will the £20 note have?
Polymer notes are much more secure than paper notes. There are multiple features that have been included to ensure the new £20 notes are more difficult to counterfeit. These features include holograms, numbers that appear differently under UV light, see-through 'windows', foil patches and more. For the full list of features and to see what they look like, visit the Bank of England website.
What design features will the £20 note have?
The artwork chosen for this note is by the artist JMW Turner. A self-portrait of the artist sits in front of one of his most famous paintings, 'The Fighting Temeraire' from 1838 in the background. It's an oil painting celebrating the last journey of a battleship from Lord Nelson's fleet at the battle of Trafalgar in 1805.
The note also includes his signature from his Will and the quote "Light is therefore colour", taken from one of his lectures in 1818.
If you find yourself among the first to receive the new £20 note, you can bring it to life with Snapchat! Or, why not share your selfie with your new note with us on Facebook!
< Back to articles