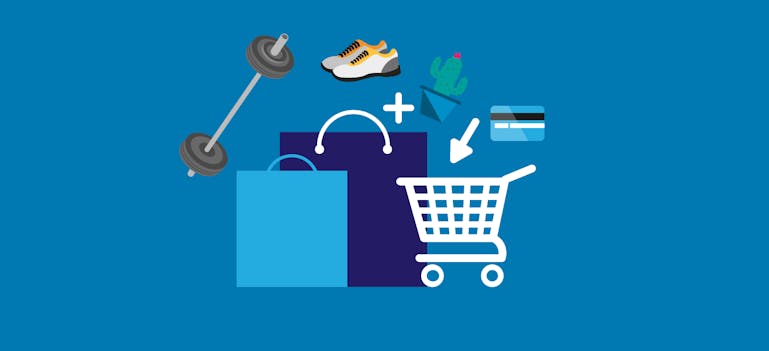 13 tips to bag a bargain for Amazon Prime Day
16th Jun 2021

Stephen
Money Saving Tips
Amazon Prime Day is one of the biggest sale events of the year, taking place from June 21st to 22nd - a 48-hour window where you can get your hands on some incredible bargains.
While there are deals to be had before the day, the biggest price drops can be found within those 48 hours. thinkmoney are sharing their tips to grabbing a bargain and how to save up ahead of major sale events.
1. Sell your old items ahead of Prime Day to make hundreds
If you've got old items in your loft, you could be sitting on hundreds of pounds. Old VHS tapes can sell for £10 each on eBay and a vintage Walkman can fetch about £70. Furthermore, if you have an old Nintendo Wii with games, you could sell it for up to £97. You could then put that money to good use on Amazon Prime Day, especially as you can list items for 24 hours on eBay, giving you plenty of time to sell ahead of the big day.
2. Round up your purchases before buying
If you are planning to buy items on Prime Day, why not round up your purchases beforehand? If you spend £21 on the shop, round it up to £25 and put away the £4 in a kitty before Prime Day.
3. Make sure you are getting a good deal before buying
Start tracking your prices early using the likes of camelcamelcamel. This is a free Amazon price tracker that will alert you when prices drop on certain products, so you know when the best time is to buy. Plus, you can add this as an extension to your desktop, so you are always on the ball.
On Prime Day, look up the products you're interested in, and you can see whether their Prime Day prices are good compared to how much they normally sell for.
4. You can get discounts with your membership
If you have never used Amazon Prime before but would like to get involved in Prime Day, you can sign up for a 30-day free trial which will provide you access to the exclusive discounts. If that's all you want it for, you can then cancel your membership before the 30 days runs out.
If you and the person you live with both have Amazon Prime accounts, you could be paying £92 more than you need. Share your Prime benefits with one other adult using Amazon Household and you can both reap the rewards, including 30-minute early access to Amazon Lightning Deals. You can also add up to four kids' profiles.
Amazon Prime Student also offers the likes of student deals, Prime Video streaming, Prime Music and one day delivery. To top it off, you'll get your first six months free if you sign up ahead of Prime Day, then 50% off the actual price of Prime once that is over (£39 per year).
5. Prime members get 30 minutes early access to Lightning Deals
This feature gives Prime members the chances to access even better deals 30 minutes before everyone else. Lightning Deals will be advertised on product pages, and you can also check out a range of Lightning Deals on the Today's Deals page and the Prime Day page.
6. Check who you are buying from
Is it Amazon or a third-party seller you are buying your product from? If it's a marketplace seller, you will have to contact them directly if the order doesn't arrive, is damaged or isn't the same as the initial listing. If you do file a complaint, you may be covered under the Amazon A-Z Guarantee claim but it's worth checking out who you are buying from before checking out, otherwise your order could end up costing you extra
7. Watch out for these review red flags
It's always a good idea to read reviews before buying, especially if you have saved up for a particular item. If a stream of reviews are placed on the same date, that could be a red flag as it could mean they have been asked or paid to review. You should also watch out for unnatural language in the review that reads as a product description, as this may be a sign that the product won't be delivered as advertised
8. Create a wishlist of items beforehand
There are a lot of deals to be had on the day but without an idea of what you want, you could spend more than you bargained for and waste time browsing products that aren't your priority. To save you money and ensure you get to the right deal in the quickest time, create a wishlist of products.
9. Use your Alexa if you are short on time
Asking, 'Alexa, what are my Prime Day deals' will pull up a list of recommended products based on your shopping history. She might know what you need better than you do!
10. Focus on home appliances and tech
When it comes to Prime Day, some of the best deals can be found on home appliances, gadgets, and tech. If you are looking for one of the above, wait until Prime Day and make sure you are checking out the offers beforehand, as you could potentially save hundreds.
11. Make sure the products are the real deal
If you are unsure about an item you are buying and those red flags are appearing when looking at the reviews, you can use Fakespot which analyses fake reviews and will help reaffirm what you already think, potentially saving you a lot of money.
12. Don't forget to download the app to get notifications on deals
If you are getting ready for Prime Day, one of the best things you can do is download the app. That way, you can find the best deals in a matter of seconds and get notifications on products related to your history.
13. Use Amazon gift cards to get money back
If you are buying a gift card on Amazon, you can use this to get extra money back for yourself. If you purchase a £50 gift card, you'll get an extra £6 added to the balance which can be used on your next Amazon purchase. The offer is limited to new Top Up customers and has a limit of one reward per Amazon account.
< Back to articles