Could shopping centres be impacting house prices?
9th Aug 2021

Laurie
Money Saving Tips
The UK boasts some of the world's most incredible shopping centres, with some generating over £1 billion in sales each year. But have you ever wondered whether a shopping centre could affect the value of your house?
thinkmoney has analysed the average price and rent of homes within the postal district of the 33 largest shopping centres in the UK. They have compared them to the average price of properties and rent within the town or city the shopping centre is located to reveal if and how much property prices could be impacted.
Properties nearby Westfield London are £261,743 cheaper than homes in West London
West London is considered to be an affluent area. But homes within the postcode of W12 - near Westfield London - are £261,473 cheaper at £744,477 than other properties in West London.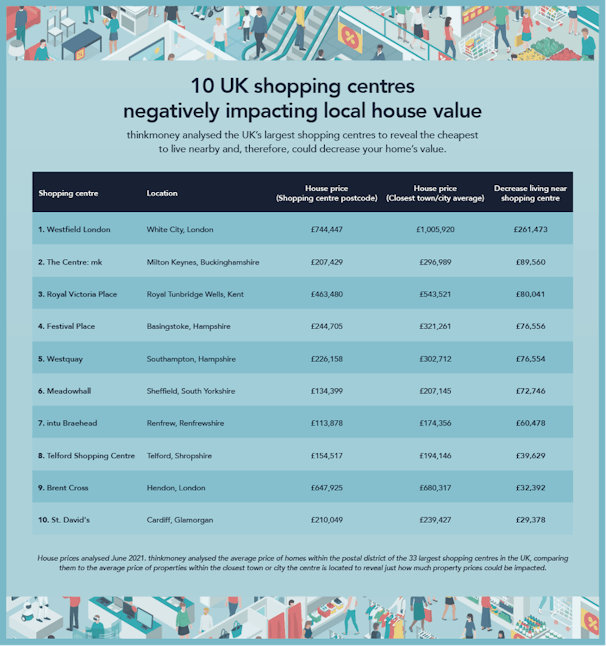 The same can be said for The Centre: mk, in Milton Keynes, with prices in the postcode (MK9) costing £207,429; an average of £89,560 less than properties in Milton Keynes at £296,989. This suggests that the shopping centre could be impacting the value of homes nearby.
Royal Victoria Place shopping centre in Royal Tunbridge Wells could also affect property value. Houses within the postcode area of TN1 are priced at £464,480, which is £80,041 cheaper than homes within Tunbridge Wells at £543,521.
So, we can see that, in some cases, shopping centres could potentially affect house prices.
Robert Burdett MARLA, MD James Leigh Property Management, said: "There is a clear link between shopping centres and house price values, but it isn't as simple as the closer you are the more valuable property becomes. House prices can be up to 5% higher where there is easy access to a decent shopping centre, but this effect is not necessarily in the immediate vicinity, where areas tend to be more commercial, traffic can be heavy, and homes, generally speaking, are less desirable to the demographic that is likely to visit the shopping centre.
"That said, shopping centres employ hundreds, if not thousands of people, many on fairly low wages, so there is a requirement for homes that are accessible to this group, which creates a need for quality, affordable homes. These could be rental properties or high-density housing where values are lower, but competition can be fierce. Having said this, the impact of shopping centres on house prices has been mitigated somewhat by Covid, and other factors like the lack of available property for sale and the Stamp Duty holiday."
But can the same be said for rent?
Rent decreased around £171 per month near shopping centres
thinkmoney analysed the 33 cheapest and most expensive shopping centres to live nearby. They found that rental prices can actually decrease for those living within the postcode area of the shopping centre by an average of £171.
Those renting near Westfield London (W12) could see the biggest reduction in rent. They could expect to pay an average of £505 less at £1,863 than those renting in other areas in West London, costing around £2,368.
Similarly, people renting around Brent Cross shopping centre pay an average of £451 less per month than those who live in the rest of the area.
Outside of London, the biggest rental reduction can be found in Newcastle. Rent around the Metrocentre is around £310 cheaper per month than other places to rent in Gateshead, suggesting the proximity could be having an impact.
If you are wondering what else could affect house value, we discovered the best UK landmarks to live near or you can even read up on how to budget for a house if you are looking to buy soon.
< Back to articles