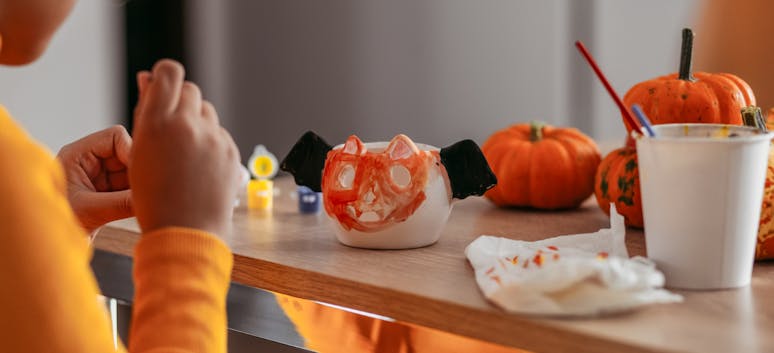 Spooktacular Savings: DIY Halloween decorations 🎃
12th Oct 2023

Abbie
Topical
Money Saving Tips
Budgeting
Halloween is just around the corner, and if you're like many of us, you want to transform your home into a haunted haven without breaking the bank. The good news is that you don't need a monstrous budget to create spooktacular DIY Halloween decorations 👻. With a dash of creativity and a sprinkle of resourcefulness, you can turn your space into a boo-tiful masterpiece. Let's dive into some fang-tastic ideas to craft an eerie ambiance without draining your wallet.
Ghastly Ghosts from bin bags 👻
One of the easiest and most budget-friendly DIY decorations is creating ghostly figures from white bin bags. All you have to do is fill the bags with crumpled newspaper, tie them off with a string to form a head, and drape them with an old white sheet. Hang them from trees or ceilings to give your space a haunting touch.
Another way you could achieve this with different materials is to use old white bed sheets or light blankets to drape over inflated balloons, although this option is slightly more expensive (you can purchase helium on Amazon for around £30), you can reuse it for birthdays or other occasions too. Secure the fabric with string and draw spooky ghost faces with a black marker.
Mason jar lanterns 🏮
This trick can help you transform ordinary mason jars into spellbinding lanterns. Paint or spray the jars in eerie colors like black or orange. You can buy cheap paints from Amazon for £3-£5, brushes for £3, and mason jars for £5. Also, Poundland often sells mason jars for £3 or less. Once dry, add spooky faces with black paint or permanent markers. Drop in battery-powered tea lights or fairy lights for a bewitching glow. Line these lanterns along your driveway or place them on tables for a shpoooky atmosphere.
Sinister silhouettes 💀
Create creepy silhouettes to spookify your windows. Use black paper to cut out chilling shapes like bats, witches, or ghosts. Tape these silhouettes to your windows for a shadowy effect that will give your home an eerie vibe when viewed from the outside. Find free templates online or draw your own spooky shapes. You can grab some black paper from The Works for £2 or on Amazon for around the same price, plus there should be enough for next year too!
Creepy crawly spider webs 🕸️🕷️
Create creepy spider webs using inexpensive black knitting wool (can be bought from Amazon for around £3). Start by tying several pieces ofwool together to create a spider web base. Then, randomly weave additional pieces in and out to create the web's intricate pattern. Add plastic spiders for an extra touch of creepiness (can be found in Poundland for £1). Hang these webs in corners, doorways, or windows to add a hair-raising atmosphere to your home.
Petrifying potions 🫗
Recycle those empty bottles into a potion-making frenzy! Take off the original labels and paint/draw creepy labels like "Witch's Brew" and "Toadstool Extract," fill them with colored water, and seal them with corks (if you want to). Now you've got a potion party that's brewing up some serious budget magic!
Pumpkin patch on a budget 🎃
No Halloween is complete without pumpkins. Opt for the more boo budget friendly faux pumpkins available at most craft stores (HobbyCraft, The Works, Amazon). Get creative with paint, glitter, and marker pens to design your own ghoulish faces. These pumpkins can be reused for years, saving you lots of money in the long run.
Wicked wreaths 🪶
Wreaths don't have to wre-eek havoc on your budget. Start with a basic wreath frame (can be bought from Hobbycraft or Amazon for around £8 or less), decorate with black feathers, plastic spiders, little pumpkins, and a spooky ribbon. Hang on the front door for that extra bit of pumpkin spice to your decor.
Witchy woo legs 🧙
This one is a true classic. Recycle old striped tights or buy some from Primark to make witch legs decorations. Fill the tights with paper or stuffing, shape them into leg-like forms, and attach witch shoes (which can be made from cardboard and painted) or normal shoes. Prop them up in plants, under tables, or poking out from your front bushes for a wicked touch.
Halloween is a time for thrills and chills, but that doesn't mean you have to spend a fortune on decorations. With a dash of creativity and some basic supplies, you can transform your home into a haunted masterpiece that won't give your budget a scare. Happy haunting, and remember: when it comes to Halloween décor, it's all about the boos, not the budget blues! 👻
< Back to articles