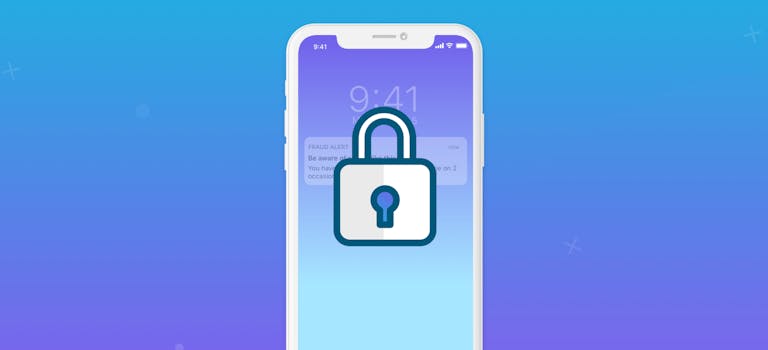 How to protect yourself against coronavirus scams and fake news
31st Mar 2020

Stephen
Financial Crime
COVID-19
To help keep you safe, we've rounded up a few of the more common scams going around so you can be aware should one come your way. We've also put together some tips for spotting scams and advice on what to do if you suspect you've come across one.
Coronavirus-related scams in the UK
21 reports of fraud relating to coronavirus have been made since the start of February. Almost half of the scams to date have involved the sale of protective masks which never arrived. Since the start of lockdown, there has been a 400% rise in fraud across the UK.
Phishing emails have also been used in attempts to get personal information (such as bank details). In these cases, the scammer will pretend to be getting in touch from places, such as the World Health Organisation (WHO). Some emails then claim to contain details relevant to the local area (e.g. number of people diagnosed with coronavirus in the town). The link to these "details" will then ask for payment to reveal the fake list.
There have also been text messages sent out claiming to be from the government. Some texts say that people will be offered money to take part in a coronavirus protection scheme, while others say that the person has committed a crime (usually relating to the current state of lockdown) and that a fine needs to be paid.
Other reports note that scammers have contacted people claiming to from their GP or a health institute offering vaccinations.
What should I look out for?
Fake texts
To remove any doubt, this is what the government's text message looks like: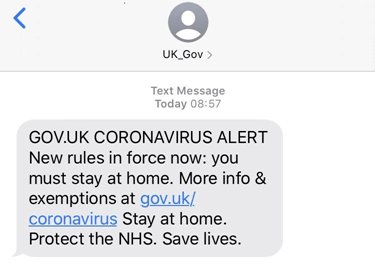 Any change from this means that the text is from a scammer, no matter the network or location.
Fines or financial rewards
Part of the scammer's method is to target people who are the most vulnerable, and this includes people who are worried about money. Because of this, a lot of scams will offer financial rewards, so be wary of anyone promising money in return for something else. This may come in the form of the scammer asking for an upfront fee (usually below £50) before you can receive the funds.
It has also been reported that some people have received texts saying that they owe a fine because they left their house more than once in a day. These texts are also scams and should be reported to the police.
"Good causes"
Scams will often try to lure people in by using good causes. At this time, scammers might promise donations to emergency services or protective equipment. Be careful of any text, call or email which says that it is acting on behalf of a good cause in return for your cash.
Banking and investment changes
A common trick is for scammers to get in touch with someone saying they are from their bank before asking them to move their money. Sometimes this will be related to an event going on at the time. In this case, scammers could say that a bank is in trouble and that you need to move your money to a new account. The same ploy is sometimes used with investments, as the scammer claims that they have found a "risk-free" alternative.
As a reminder, we will NEVER:
Get in touch with you and ask you to move your money

Ask for your details over the phone
Virus testing kits
Only the NHS offers virus testing kits. Additionally, there is currently no vaccine or cure for coronavirus, so anyone claiming to offer one is lying. One other scam that has been reported is people being told a "health professional" can visit their home to perform a coronavirus test in person, but this is also a scam.
Lockdown help
Some scammers have used the increased lockdown measures to start offering services to people in their homes. This may come in the form of someone offering home deliveries only for goods never to arrive. As far as we are aware, no companies are cold-calling (either over the phone or in person) to offer home deliveries.
What can I do if I suspect a scam?
Check their details
A good place to start is to check the company's details. This might be as simple as checking the email or telephone number matches the one on their website. If it's different, you're most likely dealing with a scammer. If a link takes you straight through to a website, check it's address matches with those that come up in Google when you search for the company. Checking any emails or texts for spelling or grammatical mistakes is also a good way to spot a scam.
If you've not heard of the company before, you can also search for them on Companies House and check that they actually exist. Added to this, a company getting in touch completely out of the blue is a telltale sign of a scam.
If you are visited in person and you suspect that the person may not be legitimate, ask for ID and assume that if they try to rush you, they are most likely a scammer.
Avoid giving your details
If on any level you suspect that you're dealing with a scam, do not give your personal details out. Scammers will often try harassing people by calling or emailing multiple times, but you should remember that real companies will never ask for information like this.
Do not download files or pay for access
The government and other real companies will not ask you to download forms or pay to access certain pages. If someone asks you to do this, you can be fairly certain that they are trying to steal something from you.
Look out for Faster Payment scams
Many people have reported that they have been defrauded after paying for items using the Faster Payment method. To avoid these scams, you should:
Use payment methods that protect your money (e.g. PayPal)
Look out for delay tactics
Try to buy from known companies or sellers
Get the expert view and avoid fake news
The best place to get updates on the state of the coronavirus outbreak is official news outlets and institutions. The following websites are reliable sources on any breaking news:
In addition to scams, there are a lot of untruths on social media about coronavirus, so be careful when reading any Facebook, Twitter, or WhatsApp posts about the outbreak.
Reporting a scam
You can get in touch with Action Fraud to report any suspected scam. If possible, make a note of any details that might help with their investigation such as phone numbers or names.
Website: https://www.actionfraud.police.uk/
Phone: 0300 123 2040
For more information on any new coronavirus-related scams, we recommend getting in touch with Citizen's Advice.
Website: https://www.citizensadvice.org.uk/
Phone: 03444 111 444
Text: 03444 111 445
< Back to articles