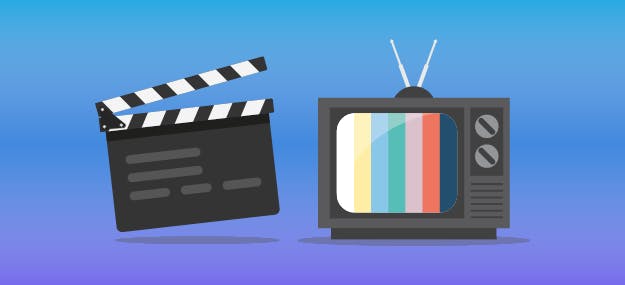 'Real-life' salaries uncovered: Could iconic film characters afford their lifestyles?
30th Jul 2020

Faye
General Finance
With searches for 'streaming services' increasing by 12% over the course of the lockdown compared to the same period last year, it's clear that Brits are watching more films and TV shows than ever before.
But, have you ever wondered just how much your favourite film and TV characters would earn in the real world? Or, if they could even afford the grand homes we see them living in on-screen?
thinkmoney has uncovered the 'real' salaries of 28 of the wealthiest and most popular TV and film characters, before calculating the cost of their homes to reveal which ones could truly afford their lifestyles. And, it appears, not all can...
Revealed: The 'real' salaries of some of the wealthiest film characters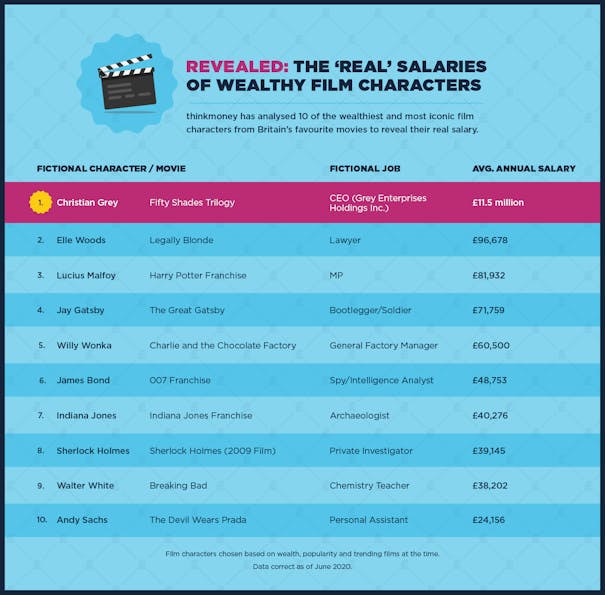 Christian Grey boasts the highest salary analysed at £11.5 million annually
Christian Grey of the Fifty Shades trilogy takes the crown for the highest-paid salary for film characters analysed. His 'real world' earnings are a respectable £11.5 million ($14.5 million) as the CEO of Grey Enterprises Holdings Inc. There's little wonder he could afford his own helicopter and penthouse apartment.
Coming a close second is Elle Woods from the popular film series Legally Blonde. As a lawyer, Elle's salary is just shy of £100k meaning she could afford a very expensive lifestyle but perhaps not the average £3.9 million home in Beverly Hills.
James Bond is one of the lowest-paid movie characters with an average salary of £48,753
Surprisingly, James Bond is the second lowest-paid film character studied. Senior Intelligence Analysts can expect to earn £48,753 ($61,291) per year. Unfortunately, that does mean that Bond, technically, should not be able to afford the regular £10 martinis or £4.4 million ($5.5 million) Chelsea apartment.
Similarly, Andy Sachs of The Devil Wears Prada boasts a wardrobe worth thousands, but her annual salary is the lowest at just £24,156, suggesting she couldn't afford the glamorous lifestyle we associate her with.
Uncovered: The real salaries of the most popular TV characters
Villanelle is the highest paid TV character analysed, earning an estimated £150,000 annually
Killing Eve's Villanelle may have earned her money from criminal means, but she has claimed the title for the highest salary. Villanelle's annual salary is estimated at £150,000 ($188,346) per year or £15,000 per 'hit'. So, it's no surprise she has gained so much recognition as a fashion icon with such a high-paid salary.
Closely following behind Villanelle is Uncle Phil from Fresh Prince of Bel-Air. It's little surprise he is the second highest earning TV character studied, with his live-in butler and lavish home. The former judge and lawyer would have earned a modest income of £105,477, although this doesn't quite seem high enough to afford a butler.
Sex and the City's Miranda Hobbes is the fourth highest earner analysed, commanding a salary of £96,678 (121,394) as a lawyer in New York - £38,541 more than Carrie Bradshaw's annual earnings as a columnist, suggesting Miranda could afford a bigger wardrobe and more Manolo Blahniks, but not the central apartment.
Friend's character Ross Geller takes fifth place with a reported salary of £72,576 ($91,130) as a Palaeontologist. Ross' brother-in-law on the show, Chandler Bing, also commands the sixth highest salary of TV characters analysed. While no-one on the show actually knows what Chandler does, it turns out he earns £68,772 ($86,290) as an IT Procurement Manager - just enough to spend every day dining out at Central Perk with Ross.
According to thinkmoney's research, Friend's character Phoebe Buffay is the lowest-paid TV star studied, making just £35,548 ($44,636) as a trained massage therapist, meaning it's very unlikely she would have enough money spare to sit in Central Perk each day.
After analysing the salaries of some of the most popular film and TV characters, thinkmoney has also investigated if these characters could truly afford their fictional lifestyles.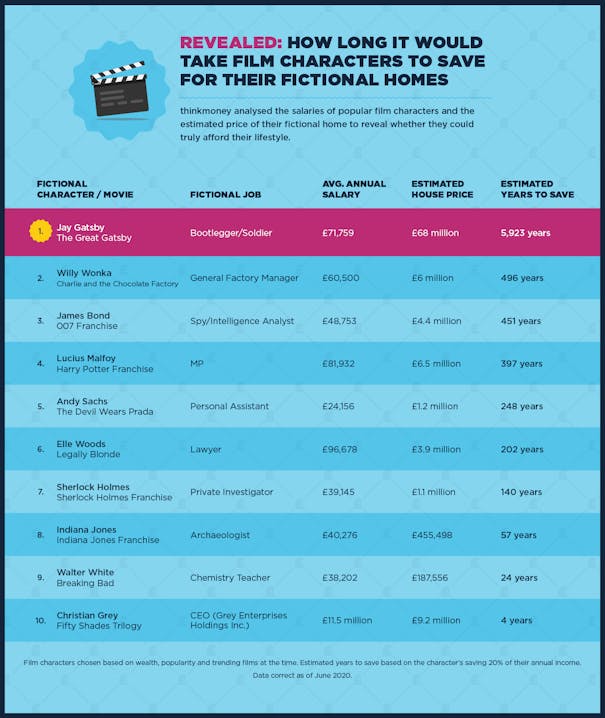 Jay Gatsby (The Great Gatsby) takes the crown for most expensive home of fictional characters analysed, boasting a palatial pad worth a reported £68 million ($85 million). But, with the average annual salary for a bootlegger/soldier at just £71,759 ($90,000), it would take 5,923 years to make enough money to afford his home (based on saving 20% each year), which explains the mystery surrounding his fortune and fabulous parties.
Willy Wonka's chocolate factory might have been everyone's childhood dream, but it sure was expensive. Today, the factory-turned-home would have cost £6 million and taken 496 years for Mr Wonka to save up for.
It would take James Bond 451 years to save for his Chelsea apartment with the average MI6 salary
James Bond is one of the most iconic British film characters. However, the average salary for a Senior Intelligence Analyst £48,753 ($61,291) does not match up with his £4.4 million ($5.5 million) Chelsea home. If he were to earn the average annual wage and put away 20%, it would take a staggering 451 years to save up for the ground floor flat.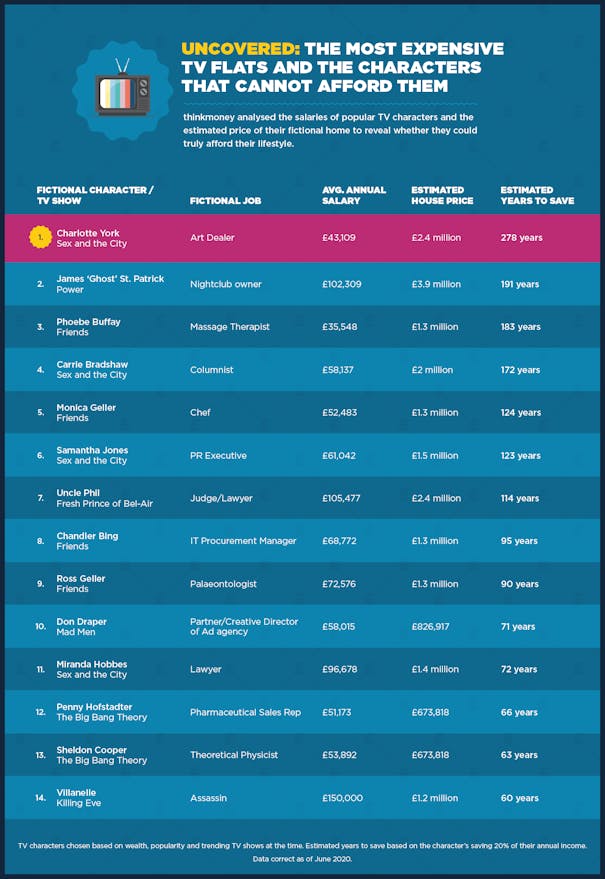 Sex and the City's Charlotte York lives in the most expensive fictional TV home, taking 278 years to save for
Charlotte York's first apartment, located in one of New York's wealthiest areas, Central Park West, costs a staggering £2.4 million ($3 million). However, with her salary as art dealer at £43,109 ($54,130) at the time, it would have taken her around 278 years to pay for her home had she saved 20% of her annual income.
Similarly, Sex and the City's Carrie Bradshaw earns a reported £58,137 ($73,000) as a columnist, but it would take 172 years for her to afford the plush New York pad featured in the show. Samantha Jones and Miranda Hobbes - characters from the same show - would also have to work for 123 and 72 years respectively to pay for their fictional homes.
It would take 183 years for Phoebe Buffay's character from Friends to purchase her New York apartment
Friends is one of the most searched for TV series across the globe. However, the apartments are far from realistic.
Phoebe Buffay would earn £35,548 ($44,636) today annually as a massage therapist. So, it would take 183 years for her to save up for her apartment in the West Village. Similarly, Monica may have inherited her famous apartment, but it would take 124 years for her to purchase the flat with her annual salary of £52,483 ($65,900).
Likewise, had 'Ghost' from Power stuck to just running a successful nightclub in New York, it would have taken him a staggering 191 years to pay off his Tribeca penthouse apartment.
While Villanelle from Killing Eve might be the highest-paid character, she does have one of the cheapest homes analysed. Costing £1.2 million, it would take 60 years for the assassin to save up for her Parisian pad.
Jonny Sabinsky, Head of Communications at thinkmoney, said: "It's been fun to look at the findings to see which of our favourite fictional characters could afford their lavish lifestyles. But it's important for us all to not get too caught up by what we see on the big screen. As it turns out, only a few of them could actually afford to live the life we see!"
Do you think you have what it takes to save up for your favourite fictional home? You can read more interesting facts on house prices and money saving tips on the thinkmoney blog.
Methodology
thinkmoney analysed 28 of the richest film and TV characters, the most popular film characters of all time and trending TV shows and films to create a comprehensive list of iconic characters to study. They then revealed the average salary for their jobs in the 'real world' and calculated how long it would take for the characters to save for their fictional homes in their respective film and TV shows.
Film and TV characters that had inherited most of their wealth were not studied due to the discrepancy of real-world figures.
< Back to articles