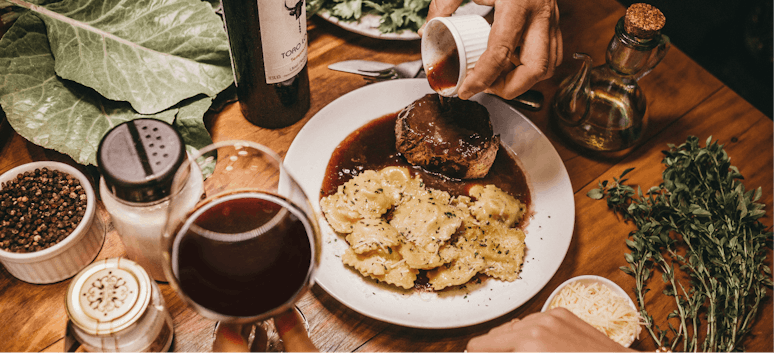 Fine Dining at a Fair Price: How to eat Michelin-star meals on a budget
16th Jun 2021

Stephen
Money Saving Tips
When you think of Michelin-star restaurants, you would be forgiven for thinking that the prices for food can reach into the hundreds. But did you know that you could dine in some of these world-class restaurants for as little as £30 for your next special occasion?
With restrictions easing and restaurants opening their doors again, thinkmoney has analysed 148 Michelin one and two-star restaurants for their cheapest options on the menu (whether that be separate dishes or the most affordable set menu) to reveal how you can enjoy fine dining at a fair price.
You could dine out at 45 Michelin-star restaurants for under £40pp
thinkmoney analysed 148 Michelin-star restaurants for their cheapest meals and set menus and can reveal that you can dine out in 45 restaurants for under £40 per person.
You can forget the hundreds of pounds required for a tasting menu, as thinkmoney discovered that in some cases, you can get set lunch and evening menus at affordable prices.
Surprisingly, 21 of the 45 restaurants were based in London, highlighting how the price of Michelin-star meals in the capital is not as unaffordable as you might think.
Luckily, thinkmoney are sharing the 20 cheapest restaurants so you can start planning your special occasion meal now that you can meet family and friends for food.
The UK's cheapest 20 Michelin-star restaurants under £30pp
The UK's most affordable Michelin-star restaurant can be found in London. Cornerstone, a Michelin one-star restaurant, offers an à la carte menu where you can pick from the menu, with two dishes costing just £21.50 per person.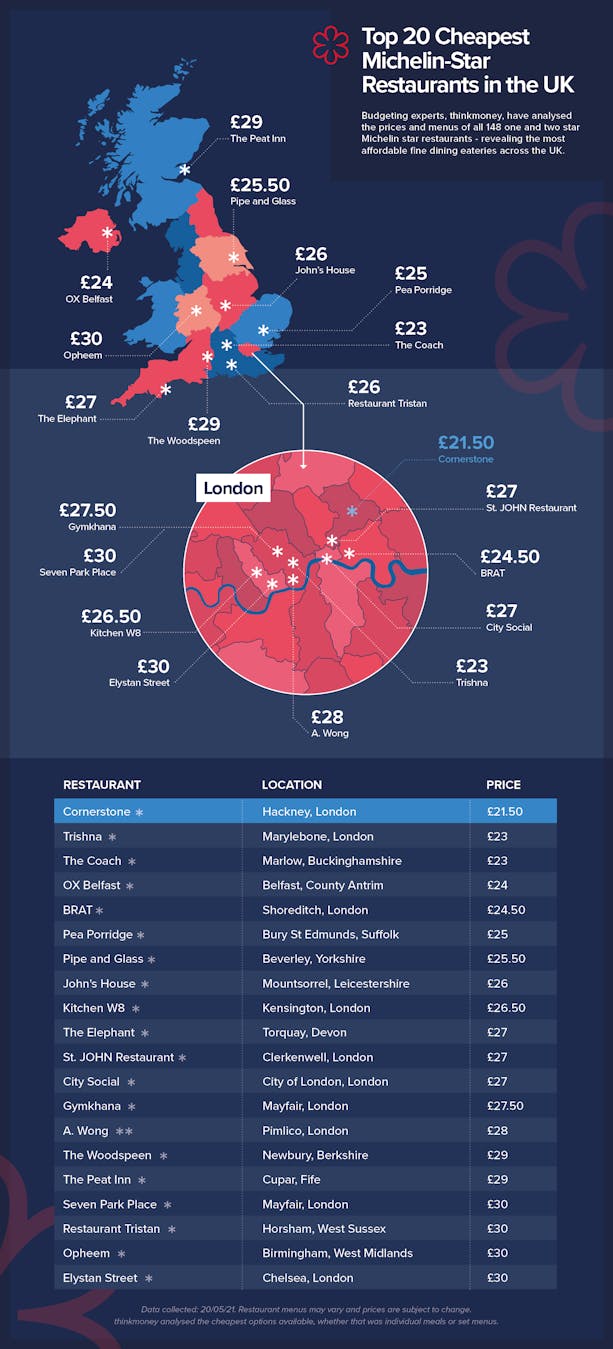 Trishna, another Michelin one-star restaurant in the capital takes second place, with the cheapest starter and main for £23 per person.
The Coach, a Michelin one-star restaurant in Marlow in Buckinghamshire, offers the same price per person at £23 - perfect for celebrating your birthday or anniversary on a budget. This pub is also owned by the same team behind The Hand and Flowers, a Michelin two-star restaurant also in Marlow that will set you back just £35 per person.
The 10 cheapest Michelin-star restaurants could see you dine out for as little as £27 per person. If you were to save £5.50 each week for a month, you could enjoy one of these world-class meals with change to spare.
Surprisingly, London offers a large selection of affordable Michelin-star eateries to enjoy for a special event.
You can eat out in London's 10 cheapest Michelin-star restaurants for under £30
In 2019, London was voted the best food city in the world, taking first place above the likes of Paris and Rome. 52 (35%) of the 148 restaurants analysed are in the capital, but they are not as expensive as you might think.
thinkmoney can reveal that you can dine in the 10 cheapest London Michelin-star restaurants for £30 per person.
Both Cornerstone and Trishna are the most affordable Michelin-star restaurants in the UK, but BRAT makes its first appearance as the third cheapest restaurant. The one-star restaurant, located in Shoreditch, offers dishes for £24.50 per person.
Not only can you dine in the top 10 restaurants in London for less than £30 each, but you can even dine in a Michelin two-star restaurant. A. Wong is a hugely popular, established restaurant and you might be surprised that you can enjoy the food for as little as £28 per person - definitely worthy of a special occasion.
But that's not the only affordable Michelin two-star restaurant.
Edinburgh and Birmingham have the second largest number of Michelin-star restaurants analysed
While London hosts 35% of the Michelin-star restaurants analysed, both Edinburgh and Birmingham hold their own against the capital.
You can eat out for less than £55 per person in all four of Birmingham's Michelin-star restaurants. Birmingham boasts a Michelin one-star restaurant, Opheem, where you can dine for just £30 per person.
Similarly, Edinburgh also boasts four Michelin-star restaurants. Edinburgh's Restaurant Martin Wishart, holding one Michelin star, is slightly more expensive at £42.50 per person. The two most expensive restaurants in Edinburgh are priced at £110 per person.
Belfast also boasts three Michelin one-star restaurants, with prices starting from £24 per person - a bargain for anyone looking to dine out for a special event.
The cheapest Michelin two-star restaurant costs £28pp
As mentioned above, A. Wong is the cheapest Michelin-star restaurant, offering a meal for £28pp, but it is not the only one.
The Hand and Flowers and La Dame De Pic, set in Marlow and London, have both been awarded two Michelin stars, and offer food for £35pp.
The second most expensive Michelin-star restaurant, however, boasts two stars. The Raby Hunt in County Durham costs £205 per person. The most expensive restaurant can be found in Wales and is Ynshir (a Michelin one-star restaurant), with a set menu starting from £300 per person.
If you do fancy wining and dining with restaurants open, thinkmoney are sharing their tips to save money and eat out on a budget - meaning you can enjoy the Michelin-star restaurants without breaking the bank.
Six tips for saving up to dine out
If you are looking to save up for a night at a Michelin-star restaurant or even dine out at one of your local favourites on a budget, there are ways to do so while also cutting costs.
1. Eat out at lunch or for Sunday lunch
If you are heading out for a meal, the time you do so can be just as important as the food you are eating. In the case of the Michelin-star restaurants thinkmoney analysed, they discovered the most affordable time to visit was at lunchtime or on a Sunday for lunch. If you do want to dine out on a budget, keep in mind when you are looking to book. You will still get to taste delicious food and enjoy the atmosphere, but it will taste all that much sweeter at a lower price.
2. Share appetisers and platters when dining out with family and friends
If you are lucky enough to do so, head out for a meal with people who enjoy dining out and trying new things. That way, you can share appetisers and other dishes that will help keep costs down but allow you to try new things.
3. Keep an eye out for 'pre-theatre' meals
Many high-end restaurants offer specials for those who visit earlier in the evening, and these are typically called 'pre-theatre' deals, designed for people to enjoy a quick meal before the theatre. Often, these can be cheaper than picking straight from the menu and are usually a set price. However, they are rarely available on weekends.
4. Don't pay for water
If you would like a glass of water with your meal, always ask for tap water. Don't be worried about asking for tap water as, often, bottled water can be priced at a premium and you can save money by opting for tap instead.
5. Go online or use social media to look for savings
Restaurants, big and small, use social media to share updates, menu changes and, in some cases, limited discounts. You can also use social media to find out about any soft launches of new restaurants, which could mean discounts for the first customers. So, it pays to stay updated on what your favourite eateries are planning online.
6. Dine out on your birthday
Some restaurants offer discounts for your birthday, and you can let them know the date when signing up for newsletters. It's worthwhile checking what is available as it will make your birthday all that much more enjoyable with a discount on your meal.
If you are looking for even more tips on budgeting, we have advice on food shopping on a budget and even how to save money each month.
< Back to articles