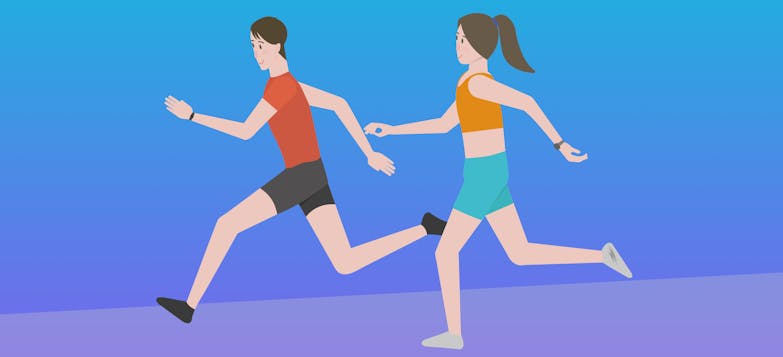 Health & fitness on a budget
18th Oct 2020

Stephen
Money Saving Tips
Wellbeing starts with having a healthy lifestyle by eating right and exercising as regularly as possible. However, staying healthy on a budget isn't straightforward. Much of the advice on how to get in shape or eat healthier doesn't take money into consideration, and for many of us, this is one of the main obstacles in the way.
But just because it isn't easy, doesn't mean that it's impossible. By following the right tips and being willing to go a little further in search of a better solution, you can stay healthy without having to break the bank.
Eating healthy
There are a lot of preconceptions about healthy eating, with one of the main ones being that it's really expensive. The good news is that this isn't the case as long as you know what you're doing, and there are plenty of ways to eat healthily on the cheap.
Seven tips for eating healthy for less
Make a shopping list and plan your meals
First up, you should make sure you're preparing a shopping list before heading out to the supermarket. Not only will this help to keep costs down by limiting food waste as you'll only buy what you need, but you'll find it easier to avoid picking up extra treats if you have a list you're trying to stick to.
Try not to shop when you're hungry
It might sound a bit silly, but we're all guilty of throwing more treats into the trolley when we're a bit peckish! If possible, head to the shops after you've had a decent meal, and you'll almost certainly find it easier to pass through the snacks aisle without feeling tempted.
Get ingredients instead of ready meals
Ready meals might be more convenient, but they're almost always higher in calories and work out as more expensive than their home-cooked equivalents. For example, four Sausage and Mash ready meals from Asda would cost you £8, but you could make the same meal by buying the ingredients for less than £4.50.
Avoid takeaways and restaurants
Restaurants and takeaways tend to favour ingredients that'll make food taste good, but that will probably have a lot of calories as a result. By cooking yourself, you can have a better idea of how many calories are in each meal. Added to this, the average household spends over £1,500 a year on meals out and takeaways, so by skipping the chippy, you could also save yourself a bundle.
Use calorie-tracking apps
Apps such as MyFitnessPal are a great way to keep an eye on how much you're eating. They're usually free to use and can give you advice on how many calories you should be having every day. By adding your meals, you can then see whether you're keeping to a healthy diet or not.
Buy frozen fruit and veg
Although a lot of frozen foods are unhealthy, fruit and vegetables actually retain a lot of their nutrients when frozen. You can also get a lot of them pre-chopped, which is really handy if you find that added prep-time often stops you from eating healthily.
Go veggie
Research has shown that going vegetarian is cheaper than sticking to a normal diet. The yearly cost of a vegetarian diet is roughly £450 cheaper than a typical meat-eating one. Going pescatarian will only save you around £25 a year, so if you want to make a real saving, going veggie is your best bet.
Shop around for bargains
Take some time to work out which supermarket near to you is the most cost-effective when shopping for healthier foods. You might find that although some are cheaper for your normal shop, others cost less once you start shopping with a healthier diet in mind. Depending on where you live, it might also be cheaper to go to local markets for better deals on your shopping.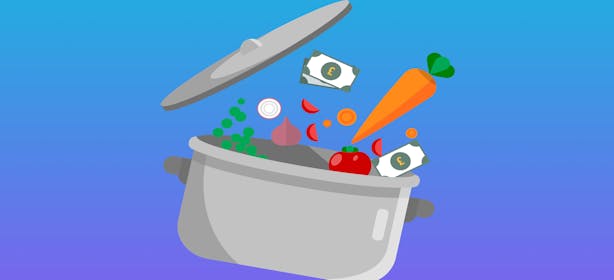 Use loyalty cards
You can save between £1 and £4 for every £100 you spend at the supermarket when using a loyalty card, and although this might not sound like much, it could add up to over £250 for the year if you shop once a week. Loyalty cards vary by supermarket, so check how much you could be getting back depending on where you shop using this guide.
Best cheap and healthy recipes
Staying healthy is a whole lot easier if you look forward to your meals. It's understandable if you open your lunchbox and end up ditching a bland portion of couscous for something a bit tastier. For this reason, finding recipes that'll keep things interesting is really important. Added to this, if you know where to look, you don't have to spend a bundle getting healthy ingredients.
Here are some websites that have a great collection of cheap and healthy recipes:
The recipes from Olive Magazine are particularly good if you're pushed for time as they all take less than half an hour to make.
Exercising on the cheap
The cost of exercising is one of the most common reasons people give for not doing it. However, there are plenty of ways to get fit without having to spend huge sums of money.
Finding the cheapest gym
Gyms can be expensive, but they don't necessarily have to break the bank. Here we've put together a list of affordable gyms that can be found across the country.
PureGym
PureGym is a good option as it costs around £20 per month, depending on location. There is no contract, so if you find it's not right for you or you can't afford it, you can stop paying for it quickly. The gyms have more than enough equipment for beginners, and there are over 200 locations across the UK, so there's likely to be one not too far from you.
easyGym
easyGym is another good option similar to PureGym, and it could potentially be even cheaper with memberships starting at £12.99 a month. The only downside is that most of their locations are based around London for now, but there could be more coming to the Midlands and further afield in the near future.
The Gym
The Gym is also a great choice, lying somewhere between easyGym and PureGym as it's about £15 a month for most memberships and has more locations than easyGym but fewer than PureGym.
Hussle
If you think you're not quite ready for a full gym membership, Hussle could be the answer for you. By heading to their website and entering your location, you can view a range of gyms in your area and purchase a day pass for any of them at short notice. There are plenty of locations that cost less than £5 for a day pass, and the website also lets you choose features (e.g. creche, swimming pool, etc.) so you can find one that suits your needs.
Before joining any gym on a monthly contract, you should try to ask for a trial to check out the facilities for yourself. Additionally, try looking for gyms local to you (e.g. boxing clubs) as they might be able to offer you an even better deal.
Cheap at-home workouts
Getting into better shape doesn't have to mean trekking to the gym as there's plenty you can do closer to home to get fit without spending a bundle.
Jogging
While not strictly at home (unless you have a gigantic garden!), jogging is a great way to stay fit without having to pay much at all. The main cost to consider before getting started is a decent pair of running shoes. Jogging on the pavement can be tough on the body if you've not done it much before. Without a suitable pair of shoes, you could land yourself an injury that'll put you out of action.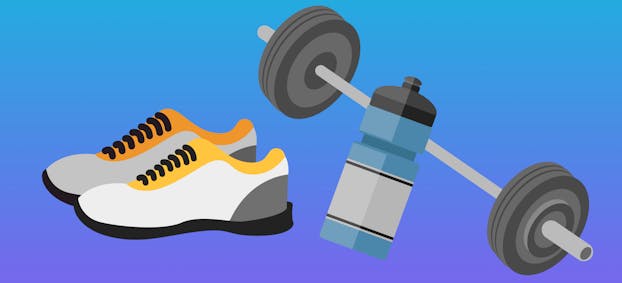 The question to ask yourself is how much running you think you'll be doing. If you just want to dip your toe in the water and see how it goes, you can pick up a pair of running shoes for less than £20. If you want to go all-in on jogging, we'd recommend spending at least £50 on them, but at least it's just a one-off cost. It can also be helpful if possible to head into a shop and ask the retail assistants for their advice on what to get. For more information on how to choose running shoes, check out this page from Runners Need.
It could be worth getting a free app like Strava or MapMyFitness to track your runs and keep an eye on your progress. The apps will save your route and time, allowing you to view your speed and calories burned as well as share progress with any friends who also use the app.
Walking
If you're not quite up to running, walking is still a great way to keep fit. The average person burns 120 calories by walking half an hour, so even a short walk every day could go a long way to keeping you in good health. Similar to jogging, you can also log your steps using an app like Pacer to see how far you've gone and how many calories you've burned. If you can hit the recommended 10,000 steps a day, then you're on the right tracks!
Workout videos
Head to YouTube and search for "workout videos" and discover the many fitness influencers on Instagram and you'll find more on offer than you could ever work through! Online fitness videos are a huge business, and there are channels out there to suit any needs. The likes of Joe Wicks were popular earlier in 2020 as people adjust to life in lockdown, but there are plenty of other programs available too. So whether you fancy a bit of yoga, dance, or even something a little less intense like at-home walking, there's something out there for you!
If you don't have much time to spare, high-intensity interval training (HIIT) could be a particularly good option. The programs last for a maximum of half an hour, with many taking less than ten minutes. HIIT focuses on intense bursts of energy followed by brief intervals, effectively cramming a long workout into a shorter period.
At-home workouts
Exercise equipment doesn't have to cost a fortune if you know the right places to look. Dumbbells can cost less than £25 for a full set and resistance bands are usually available for less £10. Alternatively, for a quick fix, you see what household items you could use instead, such as a bag of tins or 4-pint milk carton. After picking up some equipment, you can find yourself a few routines to do at home for free at your own pace. Here are a few good exercise routines you can follow at home:
In summary
There are plenty of barriers to getting healthy, but thankfully, money doesn't need to be one of them. As long as you budget your money sensibly and find a few methods that work for you, it's a relatively easy road to start eating better and exercising more, and there's absolutely no need to break the bank while trying to do so.
< Back to articles