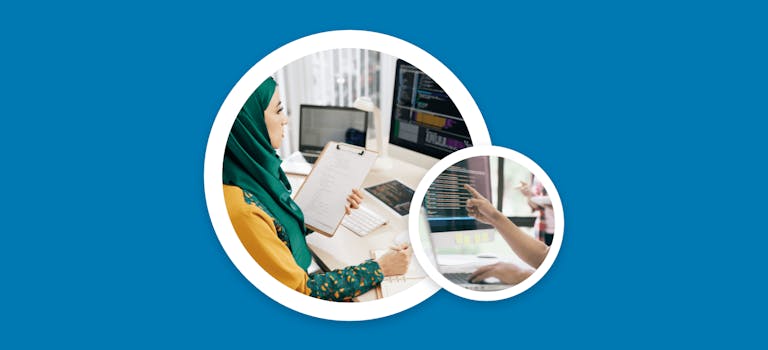 The Academy: Recruiting Foundation Software Developers
14th Sep 2021

Faye
Life at thinkmoney
As a digital banking service, it's crucial that we recruit the absolute best developers that we can. That's why we've set up an academy to bring in new talent to train and integrate into the thinkmoney family. So far, it's been going great, and we're really excited to see what the future holds as these fantastic new recruits take their place within our tech team.
What is the academy?
The academy is essentially a hiring process to take on the best new faces in tech who have just finished their training at university or a coding bootcamp. Once they have joined thinkmoney, they will start a six-month programme that will support their development and train them on our systems and how we work as a business.
Growth and teamwork are huge parts of our culture, which is why this academy is so important to us.
How does it work?
We want to make the process of learning about the skills and how to put them into action as smooth as possible. That's why we have the programme in place.
Our academy revolves around the core areas of Software Engineering including the Software Development Lifecycle, writing clean code, software testing including developing using Test Driven Development (TDD), web application security and modern approaches to software architecture, while working in an Agile software development environment.
The programme starts with the new recruits meeting their team and being eased in slowly to learn more about our products, values and customers. After a short introductory period, they'll be edged into some more focused training and upskilling, where they receive all the support they need while they learn.
Once they've made it through this process, they'll be fully ready to join the thinkmoney tech family!
Our new recruits will also be assigned a buddy to offer a friendly face and extra support to help them settle in while they learn and develop.
Ehsan Imran, Software Engineering Manager, has been working closely with the academy. He said: "So far, we've successfully onboarded developers onto the academy from all walks of life and we don't want to stop here. Along with ongoing recruitment of professional and Senior Software Developers as the business grows, we will also be hiring Foundation Software Developers for our academy every two months.
He added: "We believe that we need to invest in the future of our business and the tech industry as a whole. We still have some way to go but we are making great progress in becoming a more inclusive and diverse organisation."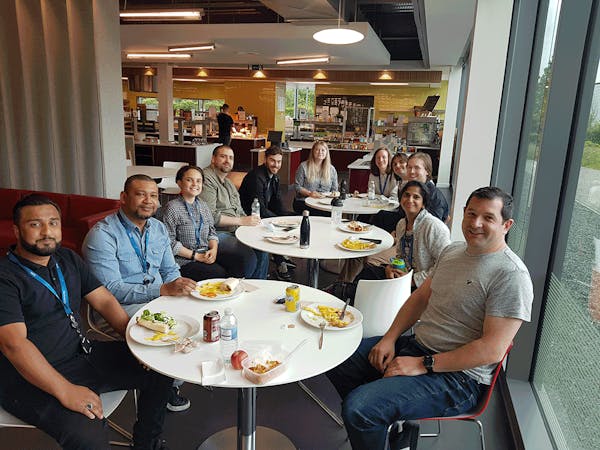 Our recent recruits
We've already had an amazing bunch of developers come through the programme and they are doing incredible work for us. We are proud to add more women in our tech team with some of our recent recruits and will look forward to onboarding more.
Sofia Kovalevskaia joined us after completing her coding course at Code Nation. She said: "As this is my first developer role, I had no idea what to expect from thinkmoney as an employer and the Foundation Academy. From day one I felt welcomed by the entire team, and I was pleasantly surprised to meet the company CTO in week one, who outlined the company vision for the product and how we are expected to contribute our skillset and experience.
"Unfortunately, I had to take compassionate leave in week two. thinkmoney was extremely accommodating of my situation and displayed great flexibility in rearranging the Academy program to reflect my thinkmoney journey.
"In my previous career, I had not experienced a clear training structure such as the Foundation Academy and had not come across an employer that has truly adapted its values into their everyday practices. I am excited to continue my training, become a 'thinker' and thrive with thinkmoney." - Sofia
Anna Balquin and Lucy Ironmonger joined us after completing the Manchester Codes bootcamp. When asked about the academy and their time at thinkmoney so far, Anna said: "The onboarding process has been very smooth and enjoyable. It's great to have a plan and know where we're heading and what's expected. Regular one-to-ones have really helped with that. It's been fantastic meeting different members of the company and learning about how thinkmoney works. Everyone's been friendly and helpful and I feel very welcome."
Lucy added: "Something that has struck me throughout my first month is how well-organised thinkmoney is. I'm not just saying that. It really is. The onboarding process is something I didn't realise could be done with such refinement, and what a big impact that would have on us feeling comfortable."
You can find out more about Lucy and Anna's journey and why they chose thinkmoney in their blog posts.
< Back to articles