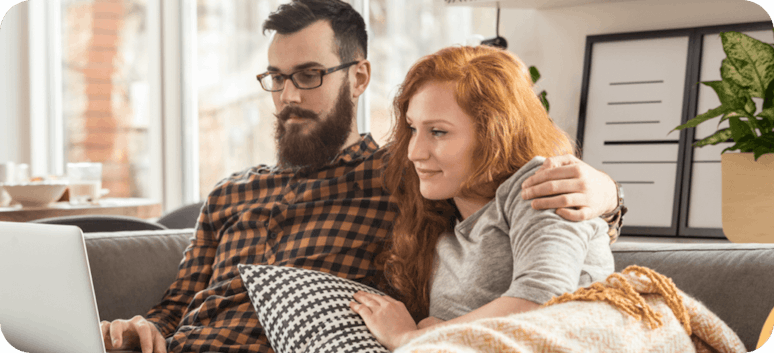 The Facebook Marketplace scams you didn't know about
4th Jan 2022

Laurie
Financial Crime
Facebook Marketplace, set up by Facebook, is a convenient way for both buyers and sellers to list and sell items.
While it is convenient, there have been rising instances of scams occurring. So much so that UK police forces are now warning the public to be extra cautious when using the service.
thinkmoney surveyed 1,000 Brits to reveal just how many of us have been scammed using Facebook Marketplace, as well as what red flags to look out for to keep you and your money safe.
One in six surveyed have been scammed on Facebook Marketplace
thinkmoney's research reveals that almost a quarter (1 in 6) had been scammed while using Facebook Marketplace. A staggering number considering there are 51.5 million Facebook accounts in the UK alone.
Of the 17%, these were the most commonly used tactics that had scammed the Brits surveyed:
Been approached by a fake profile
Paid for items in advance that never arrived
9% had been approached by a fake profile on Facebook Marketplace
1 in 11 (9%) stated they had been approached by a fake profile on Facebook Marketplace, making it the most common scam of those surveyed.
This involves fake buyers contacting those who are selling items, offering to pay and then never sending the money. Or worse, a seller sends the item but never receives payment. This can occur with people offering wire transfers which can be cancelled.
You should never send an item without receiving payment, or confirmation of payment. However, that isn't always enough to ensure that you don't get scammed, as people could share fake bank accounts. Also, PayPal doesn't offer refunds for payments sent using the Friends and Family option, so always choose the 'goods and services option' instead.
Ideally, meeting in person and receiving the cash (in a public place and with someone else) is likely to be the best way to receive payment.
But always remember, if you are unsure of the person approaching you and believe their profile to be fake, stop speaking to them, report the buyer and then block the account from contacting you.
Searches for 'Facebook Marketplace scams' have increased by 16% in the past six months
thinkmoney studied search data from June to October 2021 and can reveal that searches for 'Facebook Marketplace scams' had increased by 16%. This trend is likely to significantly rise as we get closer to Christmas.
Facebook Marketplace is the most common site for scammers
Data from Royal Bank of Scotland also revealed that Facebook Marketplace recorded the most scams between September 1 and November 21, 2021. This is in the run up to Christmas, suggesting that scammers are getting too savvy knowing where and when shoppers and bargain hunters are looking.
Also owned by Facebook, Instagram was the second most common site to be used by scammers, followed by eBay and Gumtree.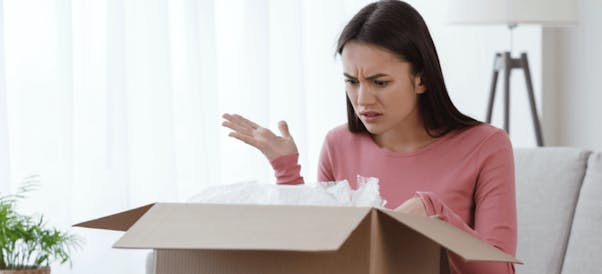 9 ways to spot a Facebook Marketplace scam
Facebook Marketplace boasts over one billion users, some buying, and some selling. But it's not just your average seller cashing in.
More and more people are using Marketplace to scam unwitting customers, using sophisticated techniques that can leave people hundreds, or even thousands out of pocket.
However, there are ways you can spot these scams through a few steps that can help you protect your money.
1. Always check when the Facebook profile was created
Before you sell, or even buy anything, on Facebook Marketplace, take a look at the person's profile. It has been noted that people have sold items to Facebook accounts but they have disappeared without paying. The same goes for those who have bought items but never received them.
So, check the date the account was created. Facebook launched in the UK in 2005, so most people will have accounts that date a few years back. If the account contacting you was created very recently (in the past few weeks or month), you should approach with caution as this could show that it has specifically been created to scam innocent people.
**How to check when an account was created on Facebook Marketplace **
Click on the listed item you are interested in
Scroll down to 'Seller information'
This information should tell you their Facebook name, and the year they joined Facebook
2. Never pay in advance for an item
You should try to never pay in advance for an item before you receive it. This is a common tactic that could see you pay for an item that will likely never arrive, leaving you out of pocket. Instead, always try to exchange the money and the item at the same time (if buying locally). However, as mentioned earlier, try to make sure this is in a public place, and you bring someone that you know with you.
If someone is sending the item, make sure you get proof of postage and a tracking number. Unfortunately, that doesn't guarantee that the item will arrive as described, so try to get photo evidence of the item being sent. You will always have to err on the side of caution when buying second-hand items.
3. Always use reputable payment methods
You want to make sure you aren't getting short-changed when buying or selling items on Marketplace. The likes of PayPal can be secure for buyers as they will investigate any claims on your behalf. Plus, they also provide security for sellers. But that's if you pay through the right method. Avoid paying through the 'friends and family' method if they are strangers, as this comes with no protection. Use the 'goods and services' option instead.
Never agree to any payment methods that you don't want to use. It's your money, so ensure you are comfortable and protect your funds.
4. Be aware of refund options if using PayPal
When buying an item through PayPal, you can choose the 'goods and services' or 'friends and family'. The latter is essentially a transaction for people you know which means they don't have to pay a fee to receive payment. But scammers are aware of this and could be forcing you to use this option, as it also leaves you without buyer protection. It is harder to receive your money back through this method.
However, using the 'goods and services' method will see you covered by PayPal Buyer's Protection. Therefore, you can opt for a refund if the item doesn't arrive or match what was described.
To do this, you must:
Dispute the transaction within 180 days of you buying the product. Just login to your PayPal account, click 'Dispute Transaction' (which can be found under 'Report a Problem').
Select the transaction you are disputing and click Continue.
Select 'Item dispute'. You and the seller will then have 20 days to come to a solution. If that doesn't work, you can escalate the claim within 20 days of opening the dispute.
5. Insist on tracking for items sent by mail
If you do need to receive an item by post, insist on a method of shipping that allows you to track the postage. That way, you can make sure they have sent you the item in the post.
6. Only communicate using Facebook
If the seller insists on speaking outside of Facebook, be wary. And never give away your personal number to a stranger. Doing so might result in you sending payments through methods that leave you unable to claim your money back.
Insist on communication through Facebook and stop communication altogether if they are trying to force you to speak on other channels.
7. If the listing price changes, be cautious
If you're looking to buy an item but then the price becomes higher once you are interested, we recommend walking away or, at least, questioning why the price has changed now that you have shown interest.
Remember, this could be a tactic to lure you in and then try to get more money, so always question and walk away if you are unsure or not confident about what it is you are buying.
8. Block and report any seller harassing you for money
If you have shown interest in something on Facebook Marketplace and communicated with the seller, but they are now harassing you for money, block and report them.
You can report a seller by clicking on the item you were interested in and then clicking on their name. Once on their profile, click the three dots on the page and choose 'Report'. You should then block them so they are no longer able to contact you.
9. Always err on the side of caution with rental listings
Facebook Marketplace is not only a place to buy items. There are also listings for renting properties. If you are going to rent a property from Marketplace, we advise treating it as if you are renting a property from an agent.
Always go to view the property, confirm its availability and don't pay for anything (including deposits in advance) until you have signed proper paperwork. They could be using fake pictures of old listings, or, in some cases, the property might not be available at all and you could be out of money by paying a deposit to 'secure' a home that was never available in the first place.
What should you do if you have been scammed?
Immediately report the scammer. Do this by clicking on the name of the seller and the three dots on the profile, choosing the 'Report' option. You then need to follow the instructions.

Block the seller. This will stop any communication, particularly if they have been harassing you for payment.

You can also contact the likes of PayPal through Buyer Protection if you have used their payment methods, to try and get your money back. This will take you through how to set up a dispute.
Jonny Sabinsky, Head of Communications at thinkmoney said "It comes as no surprise that more people than ever are being scammed through social media platforms, specifically Facebook.
When it comes to spotting a scammer, here are a few red flags to look out for; a fake profile, a seller harassing you for payment or a seller requesting a 'friends and family' payment. It's important that you are always aware of who you are speaking to and their intentions when it comes to you and your money."
< Back to articles