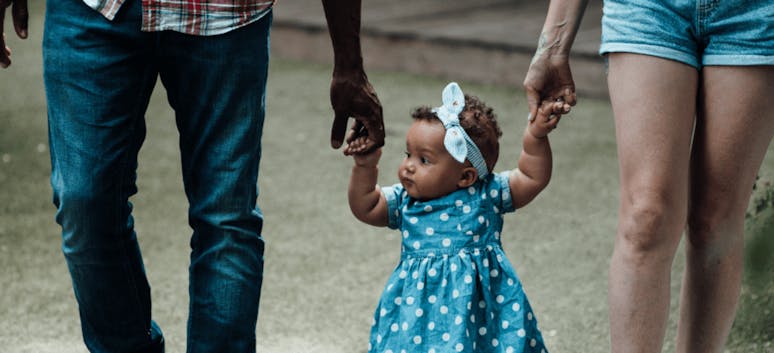 Why we take a family-first approach
27th Sep 2021

Faye
Life at thinkmoney
You spend so much time at work, so it's a pretty big deal whether you feel happy and comfortable within your workplace or not, right? And a big part of that is creating a work-life balance which suits you. We're proud to have such a hardworking, dedicated and talented bunch work for us here at thinkmoney, but we know family should always come first. That's why we take a family-first approach.
Family-first
Things don't always go to plan. Kids get sick, babysitter's bail, loved ones need a helping hand, it's a part of life. That's why we have a family-first policy.
Having trust in your workplace to feel comfortable enough to tell them when you need some family time, or if there's something going on in your personal life that you need to deal with, even if that just means taking the kids to the dentist, is crucial. If we want every thinker to feel included as part of the team, then respecting their family life and understanding that things can 'pop up' is important in achieving this.
Not only is this an important part of our culture to provide a safe space for you to bring your authentic selves to work but being a family-first company can also improve productivity. When you feel valued by your team (and when you're not stressing about your home life), creativity can flow so much more.
Flexible working
A part of our family-first approach is flexible working. We've always valued this, but since we've been working remotely due to COVID-19, we've had to become even more flexible. At least that's one good thing to come out of the pandemic! We give people the freedom to work from home, with flexible hours which fit within their personal commitments. Although we know that this can't always work for everyone and every role, we are proud to be able to offer this new norm to most of our thinkers.
Supporting mothers coming back to work
Having a diverse workplace is so important to productivity and creativity. Research conducted by Chronus found that teams with more than 50% women result in better decision-making and innovation.
This also means that there is more chance of us having some of our thinkers on maternity leave. Therefore, our family-first approach and flexible way of working has never been so important. When our mothers return to work, we want them to feel comfortable and safe by easing themselves back into it in a way that feels comfortable for them. The same goes for our dads. With our family-first approach, dad can be an extra pair of hands at home and doesn't have to worry about missing out on those special moments. Everyone is different which is why we need to listen and be able to adapt to each thinker.
Lisa Snape, Product Owner, has recently returned from maternity leave. She said: "As a new mum returning to work after your first baby, it can be pretty daunting! Trying to get a balance of spending quality time with your baby, managing childcare costs and then trying to re-discover the old you and get back to a job you love is harder than you might think. Coming back to work with the flexibility of reduced hours and a more flexible shift pattern meant that the transition became just that little bit easier and I could get the work/life balance that I wanted for my family as well as being able to do my job and support the business in its needs."
Trusting your line manager
As a business, we can have this family-first culture in place, but it's still so important to be able to trust your line manager to fulfil this approach. Having a good connection with your manager and team to build trust will help you feel more comfortable when you need to ask for extra support or express any concerns you may have. This is why getting to know your colleagues is key to being able to empathise, bring your true self to work and create a safe space.
It can also help you to notice when one of your team is struggling. For more tips on this, you can check out our blog on how to spot hidden struggles.
< Back to articles