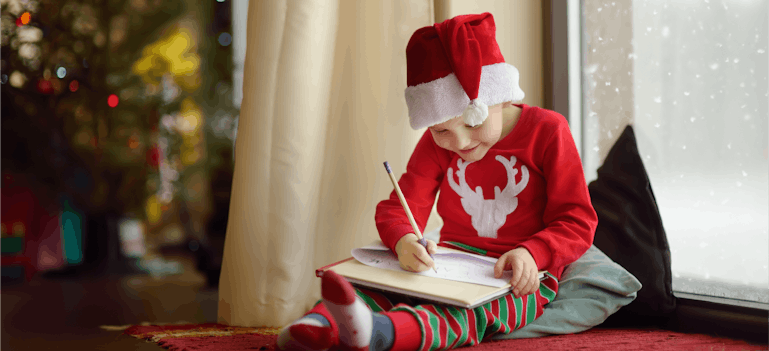 Magically festive activities to do with the kids this Christmas
13th Dec 2021

thinkmoney
General Finance
Money Saving Tips
We all remember how magical Christmas was when we were smaller, from the smell of mince pies cooking in the kitchen to decorating the tree, and waiting eagerly for the day that Santa comes down the chimney.
As parents, we all want to create that same magic for our own children. This Christmas, why not add extra sparkle to the season by taking a look at these super festive ideas for kids activities! After all, Christmas is a time they'll never forget, and you don't have to spend a fortune to make it memorable.
Let's take a look...
Christmas films bingo
Gather the troops and grab yourselves some mince pies...this is an amazing activity that will keep everyone busy all afternoon. You can buy Christmas film bingo online, but if you're saving the pennies like most of us are, you can just make your own.
Don't worry, we'll show you how.
Gather 20 of your favourite Christmas-themed films. The kids can help with this part too if they like. They'll enjoy being part of the preparations.
Create your cards with a grid on each one, with squares 4 x 4, totalling 16 squares (this is a guide, you can change the number if you wish).
Add the films to the grid, making sure there are no repeats on the same card and that every card is different.
Choose your winning film list.
Decorate and colour to make it all look super Christmasy.
If the kids enjoy getting crafty, they can be part of the creation of this great family game which, if we do say so ourselves, is a good way of doubling your activities.
Festive treasure hunt
In many parts of Europe, families will run around the house at Christmas time to find hidden gifts that have been left anonymously. In the Czech Republic, this takes place on 'St Nicholas' Day in the first week of December, and it's a major part of the festivities! Why not take a leaf out of their Christmas book and get busy at home with a treasure hunt.
It doesn't have to cost much, you can probably get away with £10 to £15 in your local pound shop to gather some little treats and small toys. The fun is in finding them more than the gifts themselves.
Again, if you want some bonus fun, get the kids to do the hiding of a few gifts and tell them to make it extra hard to find.
Writing to Santa (by hand!)
Time to peel the kids away from their iPads and hand them a good old fashioned paper and pencil. It's time to write to Santa! We all know that the real Father Christmas only reads letters which have been nicely written by hand (wink), so let them get busy with a letter, which you can even post at your local Post Office once you're done.
Don't forget to include the address:
**Santa/Father Christmas
Santa's Grotto
Reindeerland
XM4 5HQ**
Cook up some Christmas treats
If you really want to create that festive environment for the little ones, there's no better way to do it than to cook up some treats in the kitchen. Those smells that travel through the house are unbeatable and really get everyone in the Christmas mood.
Also, it's a good way to have some fun as a family without having to splash out too much. A little baking, kneading dough and decorating cookies can all be enjoyed by spending less than £20.
Why not pick up some festive cookie cutters and get the kids making reindeer shaped delights! Or if you're feeling really traditional, grab some minced meat and get making homemade mince pies.
Just make sure you save one for Santa, as a little bird tells us he likes a snack or two on Christmas Eve.
Budgeting for a family Christmas
Whatever your planned activities are for the kids, a thinkmoney Current Account can help you manage your finances to budget for Christmas. Take advantage of the Smart Budgeting feature, which assists you by putting the right amount of money aside for your bills and expenses. All managed anytime, anywhere with the thinkmoney app.
< Back to articles