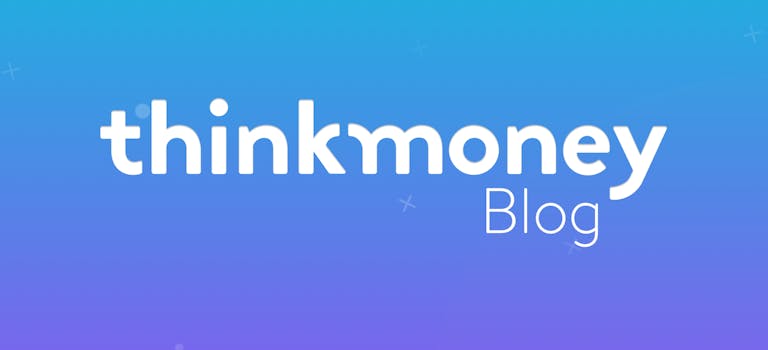 Reality check: The true cost of buying into celebrity endorsed clothing
25th Nov 2019

thinkmoney
Money Saving Tips
It's no secret that celebrities help sell brands. In September 2019, Love Island winner Amber Gill announced her clothing collection with MissPap. Online searches for the brand skyrocketed, increasing by 45% compared to the previous month.
Boohoo, the parent company of MissPap, recently revealed a record turnover of £1 billion in the past year. Celeb collaborations and social media influencers were said to be behind the rise in sales.
But what does this mean for those that are inspired by the celebrity lifestyle? thinkmoney surveyed 18-24 year olds across the UK to reveal just how much today's influencers cost young Brits.
A third of young adults spend more money on celebrity clothing collaborations than they save
thinkmoney's research found that over a third (35%) of 18-24 year olds have spent more on celebrity clothing ranges than they have managed to save in the past year. The figures suggest it's worthwhile for brands to create these partnerships, because of the access we have to celebrity lives through social media.
Malvika Sheth, 20, a fashion influencer, believes famous faces are the reason we buy into some products. "When an influencer shares their experience with a product, it becomes easier for consumers to relate. It's a powerful feeling a viewer gets when they see how and why their favourite blogger/content creator/influencer uses or wears a product."
52% of 18-24 year olds use credit cards to buy celebrity endorsed clothing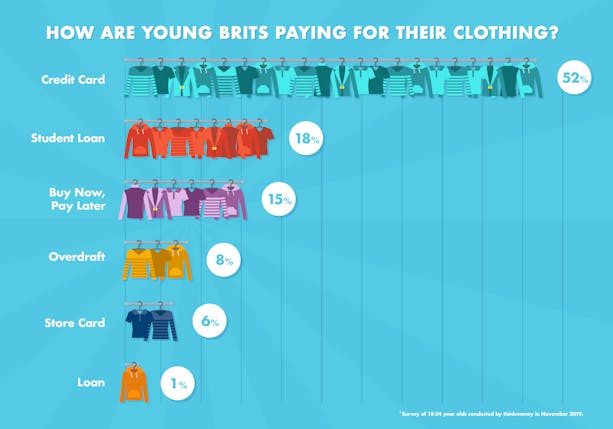 Brits are spending money on clothing that they don't have. More than half (52%) of young adults surveyed said they regularly used their credit card to pay for celebrity clothing collabs.
What's more surprising is that 1 in 6 (18%) are using their student loans to buy these clothes. A further 8% even dipped into their overdrafts, suggesting social media is having more of an effect than people might expect.
It has recently been reported that 91% of Brits aged 16-24 use social media daily, which could be behind the increasing spends.
1 in 7 young adults spend over £200 on celebrity clothing collaborations each year
According to thinkmoney's study, 1 in 7 (14%) of 18-24 year olds spend at least £200 a year on celebrity clothing collaborations. In 2018, 19% of Brits spent between £100-£200 a year on clothing in general. So you can see the effect celebrity endorsements are having on younger generations.
thinkmoney's research also revealed that half (50%) of those spending over £200 are using credit cards, with a further 30% using Buy Now Pay Later schemes. A survey by Hastee revealed that 59% of people aged between 18-35 felt they were encouraged to spend more than they had with Buy Now Pay Later schemes. This could even be stopping some people from being able to save for the future.
Almost half of 18-24 year olds are more influenced by the celebrities than the clothing
As social media becomes increasingly popular, more people are being drawn into the picture-perfect lives their favourite celebs appear to have. Almost half (49%) of young Brits buy clothing simply because they like the famous person advertising them. Similarly, 17% said they spend money on these products because they trust the star.
Malvika said: "Most marketing and advertising efforts aim at just getting your product/service seen, so it's a win-win for brands to work with influencers on social media."
Scott McGlynn, 32, has 70,000 people following him on Instagram. He believes that the industry is only going to get bigger. "We buy from influencers because we want to own what they have. A lot of social media stars promote confidence and self-love, which is why people follow them. Plus, reality TV allows us to see into the lives of these stars and become part of it."
Three quarters of men are more likely to buy clothing promoted by celebrities
It's been reported that 74% of Brits make decisions about what to buy based on social media posts, and men make up a large chunk of that.
According to thinkmoney's study, over three quarters (77%) of 18-24 year old men are more likely to buy clothes advertised by influencers and celebrities. A staggering 46% do this just because of the celebrity, and not the clothes they're promoting.
Belynder Walia, a qualified psychotherapist and mindfulness coach, said: "It is in our DNA to want to 'fit in' and be part of a group. So most people - especially younger generations - conform to what the majority is consuming."
1 in 6 young adults think celebrity endorsements offer better value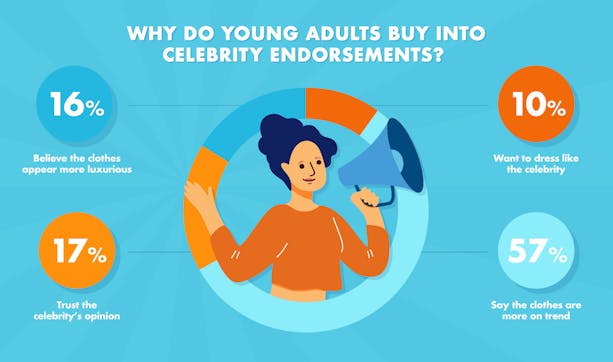 Social media has elevated society's obsession with celebrities to new levels. So much so that we truly believe in what they sell to us. Over half (57%) of those surveyed think clothes are more on-trend if they are advertised by a famous face. And 1 in 6 (16%) believe clothes endorsed by celebs are better quality and value. But, is that always the case?
Do celebrity clothing campaigns really offer better value?
Love Island 2019 runner up Molly-Mae Hague recently released her first clothing line with Pretty Little Thing. However, it was reported that some items from the collection had been sold on the site before. Some shoppers even said they had noticed prices going up due to Molly-Mae's name being attached. A spokesperson for the brand later revealed that 'eight of the items in Molly's collection were from previous best selling lines from PLT'.
This revelation hasn't stopped people from buying the products. 1 in 5 (21%) 18-24 year olds have spent so much on celebrity clothing collabs in the past year, that the products now make up over 50% of their wardrobes.
Which clothing endorsements are the most successful?
Despite negative press, the most popular collection in the survey was Molly-Mae x Pretty Little Thing. 1 in 4 (26%) had bought clothes from the collection. Only 9% had purchased clothes from Love Island winner Amber Gill's line with MissPap, suggesting you don't even need to win the show to earn the most.
Actress and singer Zendaya's collaboration with Boohoo also proved popular, with 26% buying from the collection in the last 12 months.
Who influences young adults the most?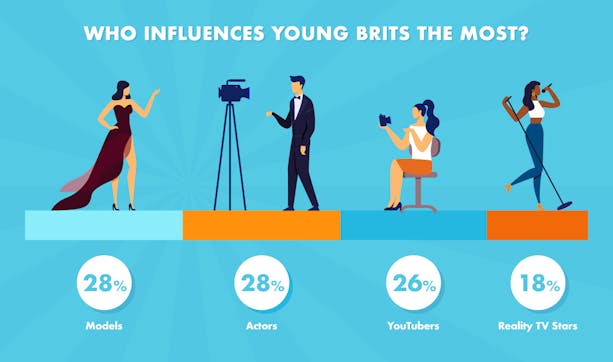 Models and actors came out on top, with 1 in 5 18-24 year olds saying they are more likely to buy clothes advertised by these stars. Surprisingly, YouTubers proved more influential than reality stars. 26% of those surveyed said they are more easily swayed by people on the video sharing platform.
Belynder Walia, a qualified psychotherapist and mindfulness coach, said: "It is easy to aspire to someone who is popular and, ultimately, we want to part of the life of the influencer. I do believe more brands will work with them as they are, quite literally, doing the marketing and consumer testing in one go, as well as creating the content and selling the brand. However, it's important for consumers to be mindful and remember first and foremost, they are an influencer."
If you think you're starting to spend more than you save each month, don't panic! You're not alone, and there are options available to help you get a firmer grip on your spending. Some current accounts, for instance, can separate your bills from what you have to spend. That means you can't spend any money you might need for important payments. And it doesn't always mean a big change. Read more on how a few spending adjustments can potentially save you £100 a month
< Back to articles