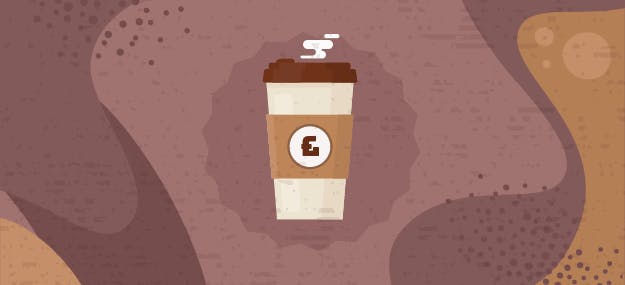 Revealed: The UK Cities Paying More for Their Coffee
23rd Jul 2020

Faye
General Finance
It's safe to say Brits love coffee. You only need to have seen the queues at coffee shop drive-throughs to understand the love for caffeine.
While we might enjoy 95 million cups of coffee per day, are we getting a good deal when it comes to buying our morning fuel from coffee shops?
To find the answer to this question, thinkmoney has uncovered the best-value coffee chains, the ones we have missed the most during lockdown and which cities are saving the most on their regular latte since the VAT cuts came into play.
All of this research was formed after analysing the price of Britain's most popular coffee, a regular latte, in four chain stores (Starbucks, Caffé Nero, Pret A Manger and Costa Coffee) across 14 cities – equating to 56 coffee shops in total.
Birmingham residents are saving the most on their coffee after the VAT cuts
After the chancellor announced the recent VAT cuts for food and drink establishments, thinkmoney calculated the cost of the average latte across Starbucks, Pret A Manger, Costa Coffee and Caffé Nero chains to compare the before and after savings.
Birmingham residents are saving the most, with the cost of an average latte dropping by £0.19 after the VAT cuts – from an average of £2.79 to £2.60. If they were to buy a coffee each weekday, that's a saving of £22 over six months.
Leeds residents come a close second, with the average latte cost at £2.65 after the VAT cuts. That's a difference of £0.18.
Sadly, coffee drinkers in Newcastle and Bristol are only saving 6p after the cuts, or just £7.20 over the six-month VAT holiday. The cost of a latte across all four coffee chains is now £2.67, from £2.73.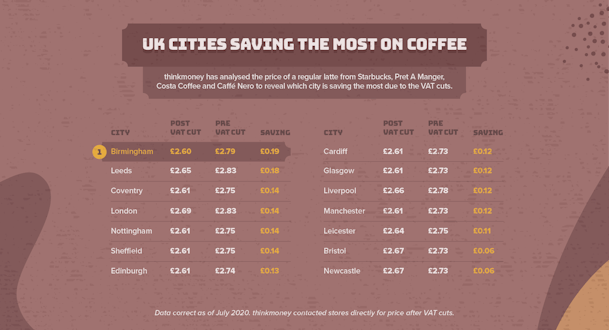 The UK's average latte costs 13p less as the new VAT cuts come into play
However, the majority of Brits are going to enjoy the benefits of the cuts. The average cost of what each chain deems a regular latte across Britain is now £2.63. Before the VAT cut, the price was £2.76 – that's a saving of £0.13.
While that saving may not sound like a lot, it can add up for those who drink a coffee each day on their way to work or enjoy the morning treat. Over the course of the six-month VAT cut, regular latte drinkers can save £15.60 – or the equivalent of six free lattes.
London is home to the most expensive coffee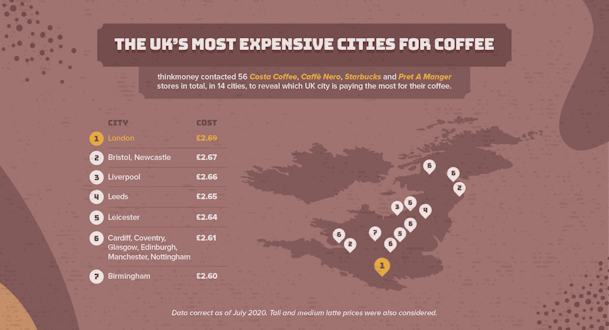 As part of the research, thinkmoney has also uncovered which cities are the costliest when it comes to purchasing a regular latte – regardless of VAT savings. Sadly, Londoners are paying the most.
The average price is £2.69 for a regular latte from Costa Coffee, Caffè Nero, Pret A Manger and Starbucks, which is £0.09 more than the cheapest city on the list, Birmingham.
However, London has recently claimed the title for the most bars, cafes and restaurants in Europe, which could be behind the price hike in the UK's capital.
Bristol and Newcastle rank second with the average latte costing £2.67 - suggesting people in the cities are willing to spend more on their coffee than others.
Liverpool is also one of the priciest cities, with a regular latte costing £2.66.
Daily coffee drinkers in London will spend up to £9,092 in their working lifetime, compared to £8,788 for Birmingham residents
It's estimated that the average person will spend 13 years in total at work, with an extra year on top for unpaid overtime.
So, for those living in London who buy a coffee every weekday – and if the prices were to stay at the same rate as they are today - they could be spending a staggering £9,092 for their coffee over their working lifetime. Residents in the cheapest city, Birmingham, will spend £304 less (£8,788) on their coffee - the equivalent of 113 coffees.
Uncovered: The coffee shops we have missed the most in lockdown
With the new lockdown rules allowing coffee shops to reopen for takeaways and collections, thinkmoney analysed Google Search volume during the two-month period in lockdown 2020 to reveal which coffee chain Brits have been missing the most.
These are the most searched for coffee shops during lockdown:
Starbucks: 1.3 million searches

Costa Coffee: 615,890 searches

Pret A Manger: 595,860 searches

Caffé Nero: 323,240 searches
But which one is giving you the most for your money?
Starbucks is the UK's best value coffee chain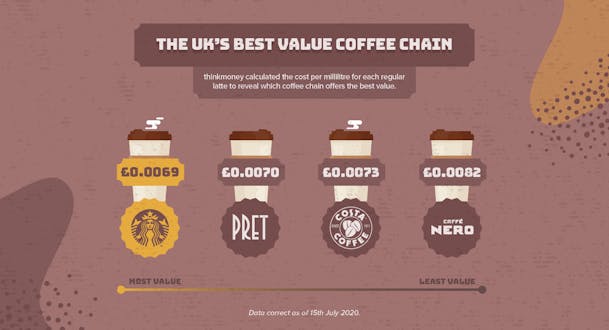 When it comes to the best value coffee chain from the 'big four', Starbucks takes the title for the best value for customers, as well as being the most missed coffee chain during lockdown. When looking at the cost of a regular (tall) latte, it works out at £0.0069 millilitre of coffee, offering 354ml for an average of £2.63. Pret A Manger's comes in a close second at £0.0070 per millilitre of coffee, or £2.40 for their regular sized latte, measuring 340ml.
However, Caffé Nero is the most expensive, charging £2.80 for a regular latte – which is £0.0082 per millilitre of coffee.
The second most expensive coffee shop is Costa Coffee at £2.50 for a regular latte, or £0.0073 per millilitre.
*Numbers have been rounded to the nearest total. *
Contactless coffee drinkers can start earning rewards
Since February and the impact of COVID-19, the UK has seen a sharp rise in contactless payments. A recent study stated that two thirds (66%) of all transactions in Britain are now contactless – particularly as the contactless payment limit has increased from £30 to £45. This is good news for regular coffee drinkers, with rewards available for those using card.
The Starbucks app is one that allows you to collect rewards from your phone, which you can use on coffee and food. Likewise, the Caffè Nero app allows you to earn rewards for exclusive treats, similar to Pret A Manger. You can also earn points on the Costa Coffee app to put towards your future coffee.
For more tips on money and budgeting, check out the thinkmoney website for saving advice. You can also find handy tips on going cashless with our latest guides.
*Disclaimer: All updated pricing data correct as of 15th July 2020. At the time of contacting the stores, a regular latte was still priced at £2.80 at Caffè Nero. The price of coffee can also vary at each individual branch. Eat Out to Help Out scheme prices not included. *
< Back to articles