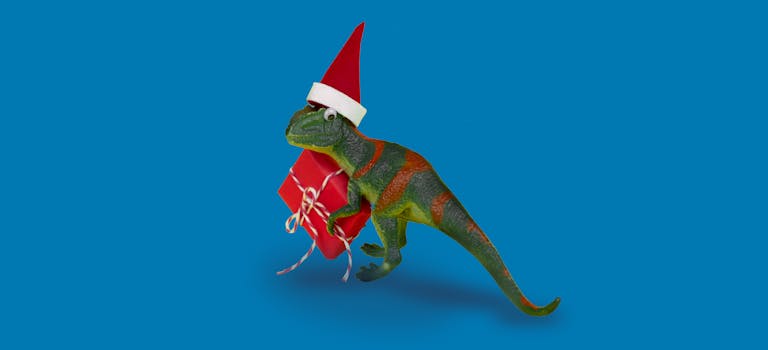 Simple steps to saving money for Christmas
13th Sep 2021

Faye
Money Saving Tips
Are we seriously talking about Christmas already? Yes, we are! It will be here before we know it. Whether you're the type to start Christmas shopping months in advance or you're a last-minute grabber, starting early to save will benefit everyone. Take a look at our top tips to help spread out the cost of the 'happiest time of the year'.
How much money should you save for Christmas?
Trying to work out how much money you should save for Christmas can be difficult. Many factors will determine how much you will need. The biggest one being the size of your family. For example, the more little ones there are, the more gifts you may have to get. However, that doesn't mean you shouldn't be able to create a budgeting plan.
1. Set your Christmas budget early and stick to it
Create a budget early on. You can do this by working out how many presents you'll need to buy, how much you usually spend on each family member, what your family budget looks like, how much the food bill will be, and how many safe, social distancing events you'll want to attend. Taking everything into consideration means you can create a realistic budget; the hardest part is then sticking to it.
2. Start saving as early as possible
The earlier you start saving, the better. For instance, start saving £10 a week at the beginning of October, and you'll have £110 saved for the week before Christmas. But thinking ahead, there's no harm in starting to save for next year's Christmas as soon as this one is over.
3. Use a stocking for smaller, cheaper presents
If you can't afford one big present, why not fill a stocking with a few little cheaper gifts. A stocking filled with treats will make a lovely present without the hefty price tag. Plus, you could open this up to your extended family, which means you don't have to spend as much on larger gifts.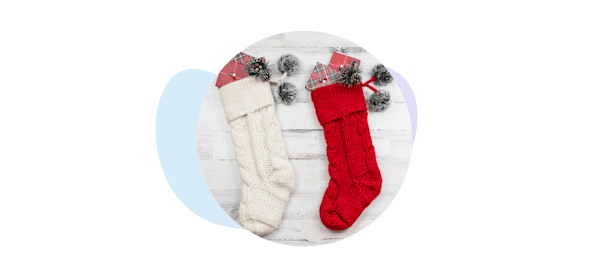 4. Shop the sales early
Making the most of a sale is a great opportunity to grab yourself a bargain. Have in mind what gifts you want to get and keep an eye out for sales and discount codes to purchase those gifts at an even better price. One to get in the diary for is Black Friday! This year it is on 26th November, but many stores have a weeklong sale and release different offers each day.
5. Use your supermarket loyalty cards for shopping
Make the most of your supermarket loyalty cards. Even if you can't find any gifts in your local shop, saving up the points can get you great discounts on your Christmas food and drink. Which, let's face it, can be just as expensive as the presents! It's been estimated that you can make savings of up to £400 each year with supermarket loyalty cards, so any little saving helps!
6. Use supermarket price-match promises
You should also make the most of the price match promise a lot of supermarkets have that you might not be aware of. For example, Tesco offers discounts on the same products to customers if it was cheaper elsewhere. However, this doesn't apply to every category, such as fresh goods from the bakery or loose fruit and vegetables so keep an eye out.
7. Shop supermarket own brands
Save your pennies by shopping supermarket own brands rather than the pricier alternative. Research has found that the products often contain the same (or very similar) ingredients and nutritional value at higher prices. Where a bottle of Heinz tomato ketchup can cost £2.50 at Morrisons, you can get their own brand for £1.25 – half the price.
8. Get cash back on presents
You can also make the most of websites like TopCashback. Shop as normal via a link on the cashback website and receive money back to go towards your next gift. Perfect! In some cases, TopCashback promises to save up to £300, which can really help if you have a larger family to buy gifts for.
9. Don't always fall for discounts when buying gifts
Just because something is labelled as discounted, doesn't mean that it is. Often, around Christmas time, retailers up their prices so that you think you're getting a deal, when really it is the original price. Especially during Black Friday. There are tools you can use to check the price history of a product and if you're really grabbing a festive bargain, for example, Camel Camel Camel for Amazon and PriceSpy.
10. Make a list of food items in advance
Just like budgeting for your regular weekly shop, you should write a shopping list of all the food and drink you will need for the big day and the build up to it. If you stick to the list, then you can avoid any unnecessary spending. Also, make the most of freeing up space in your freezer, that way you can pop stuff in there so you don't need to regularly top up the food for Christmas.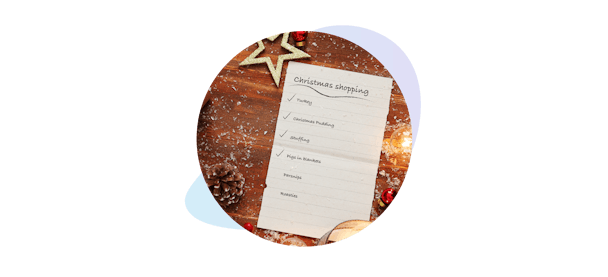 11. Make your gifts
Sometimes, there can be too much pressure to buy gifts. Many of us may still be feeling the pinch from the pandemic, especially since 46% of Brits have had to dip into their savings.
But if the cost is getting too much, why not make a gift. A box full of homemade truffles or cupcakes should go down a treat and show your family or friends the care that has gone into their gifts. If baking isn't your thing, why not get crafty and make your own candles or other decorations.
12. Create your own decorations with the children
If you need some new decorations but you're not sure if you can afford them, why not make them with the kids? Not only will this be a fun family time, but they will also be more meaningful and so much cheaper. Check out our tips on how to make Christmas decorations.
13. Have a pre-Christmas clear-out
Have you got a draw full of gifts that haven't been seen since last Christmas? Why not see if you can sell them to get yourself some extra cash? There's no need to feel guilty about it, everyone gets at least one gift that isn't quite suitable for them. Similarly, we found that from clearing out your loft, you could make up to £1,850 with these items gathering dust.
14. Say no to gifts
Another option, which may not appeal to all, is to say no to gifts. We don't mean don't buy for your children or parents, but can you cut out anyone that isn't your immediate family? For example, do you need to buy your hairdresser a bottle of wine or your neighbour a box of chocolates? Cutting out these extra gifts can make big savings.
15. Try not to borrow
It's important to only spend what you can afford. Throwing a load of cash at Christmas won't make it any more special, so try to avoid borrowing money to pay for it. You'll only make January a stressful time as you try to pay it back.
16. Share subscriptions with friends or family
Split your subscription bills with close ones and put the monthly savings away. The cost of a Basic Netflix plan for one screen is £5.99 whereas a Premium plan for four screens is £13.99. Premium Family Spotify plans for six accounts costs £16.99 whereas the Premium plan for one account is £9.99.
If you're struggling with how to manage your money, check out our guide on how to improve your budget. We also have a few extra tips that will help you save hundreds while at home.
< Back to articles